This $60 Find From Urban Outfitters Is The Most Unique Shelving Solution
Photographee.eu/Shutterstock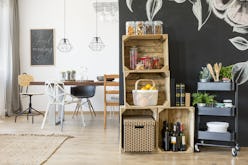 Storage isn't always the most glamorous part of decorating your home — but it can be. Just because something has to be high functioning doesn't mean it has to lack in style, and some of your favorite home goods retailers are making a case for that more and more. Not only that, but they're also giving you options that suit even the strictest budget, so if you've been looking for affordable shelving ideas, your search ends here: With a little creativity and just $100 bucks or less, you'll be able to display your books, trinkets, and other odds and ends in a totally fashionable way.
If you've only thought of your shelves as utilitarian objects, it's a good time to revisit your own. For example, open shelves in a kitchen are not only chic, but they're also seriously handy. And even if you've got more books than you know what to do with, there's a way to make the cluttered vibe work when you've got the right pieces to display them. (Pro tip: one of IKEA's faves can mix into any decor style and make your collection shine.) Besides that, you can go with a DIY approach by mounting storage cubes or even crates to the wall, try floating shelves if you're short on square footage, or even utilize some clever door-hanging shelves to stash extra bathroom products and supplies. There are some really great options to take advantage of right now at your favorite stores.
All that said, if storage has been one of your biggest design challenges, there's no longer a need to stress — and ditto for your budget. Ahead, find 10 completely unique and stylish shelving ideas that are all under $100. Problem solved.