The Bookcase From Target You Didn't Know You Needed
United Photo Studio/Shutterstock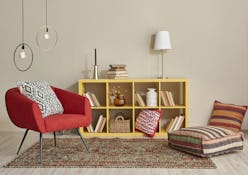 Storage is an essential, but not always sexy part of designing your home. Keeping things tidy and organized can be integral to your sanity, so although it's not the most fun part of your decor, it's something that can seriously benefit you in the long haul. That said, there are plenty of chic ways to stash your stuff, and you don't have to spend an arm and a leg to get your hands on them. In fact, you might be shocked at the variety of bookcases under $100 that will help you stylishly get your house in order.
Bookcases are obviously a means for storing your coffee table books, chef-approved cookbooks, and whatever other texts you own, but once you think of them as means of decorating your home and not just a functional piece of furniture, you can start to have some fun with them. In addition to holding all your books, mix up your shelves with the addition of plants, framed photos or artwork, or other little decorative objects that are in need of your home. These pieces will let you highlight those items while maintaining some sense of organization.
If you've been in search of a bookcase for your own home, but thought they were all out of your budget, you're in luck. Once you know where to hunt, it's not difficult to find one for every type of home decor without even hitting triple digits. From mid-century modern to industrial (and so many styles in between), find 10 bookcases ahead that would make a brilliant addition to your abode — at the very least making it look like you've got your act together.
It's hard to beat the price of this minimalist bookcase from everyone's favorite affordable furniture store, Ikea. If you don't mind doing some light assembly work, this one's for you.
For those short on space, a wall-mounted bookcase is a great option. It will take up less real estate in your home, while storing your various odds and ends.
Those who prefer a limited color palette might find this ladder style bookcase from Joss & Main to be an ideal option. And because it's such a simple design, this one is versatile for various types of home decor.
The triangle shape of this bookcase from Bed Bath & Beyond makes it a standout in any room. It gives a cool, geometric feel and can even be used as a clever way to divide a space.
Who says bookcases can't be glamorous? Add a little sparkle to your space with this little gold number from CB2. Metallics always seem to have a way of making any room look a bit more expensive, so at under $90, you'll definitely get your money's worth.
Leave it to Target to offer an affordable, functional bookcase that's flexible to practically anyone's design aesthetic. And this one's big enough to justify taking up a book shopping habit.
Because this three-tiered unit fits snugly into a corner, it's great for rooms that need a bit of storage, but don't have much space to offer.
The mix of metal and wood gives this bookcase from Wayfair an industrial feel.
The ample storage available in this cube bookcase makes it a great option to double as your entertainment console. Hang your TV above it and use the various section to stash DVDs, gaming accessories, and other little accent pieces besides whatever books you want to keep on hand.
This two-tiered bookcase from Amazon my be short on height, but it's a sleek and stylish addition to any home.
Mid-century modern aficionados will love that this piece features all the trappings of the era (hairpin legs, clean lines) without the big budget price tag that normally comes with the territory.