Acne Studios' Iconic Musubi Bag Is About To Get A Very 2019 Update
Courtesy of Acne Studios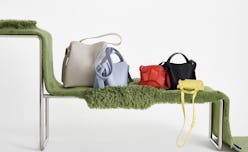 A few months into 2019, and some trends that have already come and gone — while others have clearly proven their staying power. One such trend that's taken the streets by storm: Bright citrus yellow. The vivid color, not a far cry from the other shade du jour, slime green, is popping up everywhere, including the brand-new drop of Acne Studios' Musubi bags. If you've been looking for a bold update to upgrade your handbag collection, look no further for the accessory you should invest in this season.
If you're in the market for some new purses to tote around this spring, you'll want to mark your calendar for March 7. That's the date that Acne Studios' Spring/Summer 2019 bag collection officially drops in stores and online, and included in the line are some stylish updates to some of the brand's most iconic bags. And a certain new arrival just so happens to be the color that everyone's been clamoring for this season.
Acne Studio's Musubi range of handbags is introducing a slew of new shades and silhouettes for spring, including a citrus yellow mini-bag you'll want to buy right away. It's no secret that bright yellow is trending this season, considering it's popping up in the new arrivals sections at just about every fashion girl-fave retailer — not to mention on celebs and street-style stars alike.
The brand-new $650 Musubi Milli Bag in the perfect shade of pale yellow is your shot at taking the trend for a spin, especially if you're not sold on donning the color in a more daring (aka head-to-toe) way. The punchy shade, plus the top-handled bag's Japanese-inspired knot details, make for a petite statement piece that can take an otherwise plain ensemble to an entirely new level.
Of course, you can't go wrong with the upcoming collection's other 100-percent leather, Italian-made styles, like the $800 Musubi Camera in a sharp coral red and burgundy color. Slightly larger than the newly-introduced Milli silhouette, the Camera bag fits the essentials you'd need to take the bag from morning to night. And while the style is also available in a crisp linen white and classic black, it's hard not to be partial to the impactful, spicy shade.
The Musubi range also includes an oversized leather tote, $1,550, and smaller shoulder bag, $1,050, all with the characteristic twisted knot motif that gives a nod to the obi sash on traditional Japanese dresses. The spring collection also includes new iterations on an even more minimalist style, Acne Studios' Baker Tote. The grocery bag-inspired silhouette, available in patent leather or even transparent PVC, can be considered your go-to for taking everything you need on the go.
Whether you need a mini-bag to take you from day to night, or a tote that effortlessly fits all your things, keep scrolling to discover the brand-new Acne Studios bag that's ideal for you — and be sure to shop ASAP, because these on-trend styles will surely go fast.