This Blinding Color Trend Is Taking Over Zara's New Arrivals (& No, It's Not Lime Green)
ZARA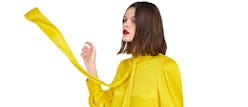 The year 2018 brought slime green and a slew of other eye-catching color trends, and it only takes one quick scroll through Zara's spring 2019 arrivals to see that the fashion world is betting big on another blinding shade this season: yellow. The retailer's latest offering features the color in a range of shades and a variety of silhouettes that'll leave color-lovers pleased — and perhaps even push those less color-inclined to get out of their comfort zone.
Starting to shop for spring can be exciting for some and daunting for others — especially for those shoppers looking to not overspend at the beginning of the new year. Luckily, scooping up several pieces in this vibrant hue doesn't have to put a major dent in your budget. Zara's known for its wallet-friendly prices, and these new styles all ring in for under $100 (with the exception of a double-breasted blazer priced at $149 that's definitely worth the extra cash).
If you were thrilled to see that bright colors were on the horizon for spring, you're likely looking to dive right into yellow. Begin by taking a look at the aforementioned vibrant blazer; it's an ideal transition piece that can be worn over a thin turtleneck now and tossed over your shoulders when the warmer weather arrives. Match the structured style up with a flared trouser, $69.90, to recharge your look from head-to-toe. Or, ease into the hue by keeping it casual with a favorite pair of blue jeans.
An easy way to brighten up a gray work day is with the addition of a marigold yellow topper coat for $89.90. Or, snag this satin citrus blouse for under $50; the flowy tied top will pair well with all your neutral bottoms. It can also be layered under a blazer to provide for a punchy pop of color.
Also worthy of a callout is that Zara may have, in fact, created a sweatshirt you can actually wear to the office. It's true: The boxy style features lapels that give it a level of sophistication that's ideal for those days you're craving comfort but need to look put together. Keep the buttery-yellow sweatshirt elevated by wearing it with a navy slip skirt and sleek white boots.
Get ahead of this color trend and continue on to shop Zara's brand new yellow styles before they're all gone.