Hailey Baldwin, EmRata, & Kendall Jenner Are Obsessed With This Puffer Jacket
Courtesy Of Aritzia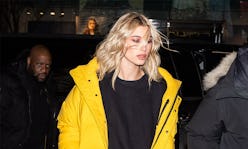 Although sporty down jackets have reigned over all other outerwear options this winter, the celebrity set has chosen a clear favorite. It's true: Just about every fashion girl has a version of Hailey Baldwin's yellow puffer coat hanging in her closet right now. Take a quick peek at your favorite street-style looks of the season, and you'll agree that Aritzia's Super Puff has become the jacket of the moment.
Immediately after New York Fashion Week wrapped, Baldwin was on a flight to Toronto. There, she helped the Canadian brand (a favorite of Meghan Markle's) open a new store. Naturally, the occasion called for head-to-toe Aritzia, from her glossy black leggings to the cropped tank, the crewneck sweatshirt, and beyond.
Of course, her outfit wouldn't have been complete without the down coat that every celebrity, model, and street-style star is totally and utterly obsessed with at the moment. It's the (aptly named) Super Puff, a heavy-duty goose-down layer that comes in all kinds of cuts (regular, mid-length, long, and a vest) and colors (from bright red to baby blue, olive green and everything in between).
Baldwin completed her all-black look with the chipper sunshine-yellow hue. She braved the frigid Toronto temps in the super-warm puffer without a problem, seeing as it's designed to battle temperatures as low as -22 degrees Fahrenheit.
As if there weren't already enough options to choose from, these coveted coats come in different finishes, too, including metallic, shiny, regular, and graphic. The Super Puff is hooded with a dual zip and button-front closure, and because it's made from a special ripstop fabric, it's flexible and waterproof.
There's a good reason why Kendall Jenner, Emma Roberts, and Emily Ratajkowski wear the jacket constantly. Not only is it a practical choice for winter temperatures, but it's a stylish one too. The jacket acts as the perfect finishing touch to any outfit, whether you're in jeans and a t-shirt or a sweater dress and boots.
And just because its list of celebrity fans runs a mile long doesn't mean it costs a fortune, either. Baldwin's retails for a reasonable $250, which is likely why the Super Puff has had such a high sell-out rate this winter.
It's obvious that the puffer-coat trend isn't dying down anytime soon, so go ahead and make the investment with a statement layer like Baldwin's yellow or just a replacement for the trusty black puffer you wear every day (you'll be matching with Bella Hadid and Karlie Kloss). Shop Aritzia's cult-classic coat, ahead.
Shop The Super Puff