Zoe Kravitz Is Designing A Line Of Lipsicks For YSL Beauty & They're Dropping Next Month
Jamie McCarthy/Getty Images Entertainment/Getty Images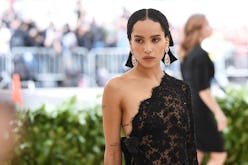 Almost as much as Aretha Franklin's iconic lyrics, Zoë Kravitz has a way of making one feel like a natural woman. Much like Bonnie on Big Little Lies, the actor radiates authenticity, which is becoming increasingly vital in this looks-matter industry. Her upcoming line of YSL Beauty lipsticks shows just how cool Zoe Kravitz truly is.
The daughter of rocker Lenny Kravitz and bohemian muse Lisa Bonet was destined to be one of the coolest girls of our generation. Her aesthetic could be defined as '60s-era hippie with a rough edge. Kravitz's fearlessness when it comes to fashion has earned her headlines time and again.
The actor tends to keep it pretty au naturel in the beauty arena, even dissing such fads as getting Botox for sweat in her recent interview with Vogue. Her less-is-more approach doesn't, however, discredit her savoir-faire in the makeup department. In fact, she's now channeling that expertise into a lipstick collab with Yves Saint Laurent.
Kravitz has been YSL Beauté's Global Makeup and Fragrance Ambassador since 2017 and now she's dropping a collection of her own with the brand. The actor teased the collab earlier in the month, but on Mon., she confirmed that it's definitely real and actually coming sooner than you think.
At the same time, YSL posted a series of uber-edgy, mad scientist-inspired videos (right on par with Kravitz's style) to announce the lipstick line that will be dropping in Sept. A limited-edition preview of the collection — a rosy neutral called Arlene's Nude — has already gone live.
The line will encompass six shades, which will ultimately be bespoke updates to her favorite Rouge Pur Couture collection. They're guaranteed to be designed with the same cult-classic formula — meaning: bold color with a satin finish — in a handful of brand-new hues.
You can expect three reds and three nudes, all named after people in her life (Lale's Red after her mother's nickname and "Scouts Red" after her dog), in true Kravitz style. Even the packaging, dark and glittery, is a nod to the Black Opium perfume she's long been the face of, Vogue notes.
So, mark your calendar for Sept. 4, when the YSL x ZOË collection launches officially. Until then, add this inaugural shade to your cart.
Shop The Product