9 Winter Nail Polish Colors TZR Editors Always Wear
Imaxtree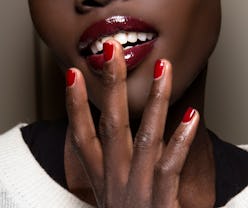 The acronym for Seasonal Affective Disorder is wildly appropriate. I don't know about you, but I definitely get SAD when the temps drop below 20 and I have to trudge through 20 inches of snow to get to the nearest subway station... so anytime I'm able to take advantage of a mood booster, you'd better believe that I will. Indulging in a manicure with a trending winter nail polish color, whether it's cheery or moody, is always a surefire fix for a case of the blues — and my fellow TZR editors feel the same way.
Earlier this year, celebrity manicurist Mazz Hanna, who works with Julia Roberts, told us that glitter nail polish in winter is basically a neutral. And Molly Romah, the lead nail technician at Chillhouse in New York City, agrees — but predicts '70s-leaning nail polish colors will make a huge comeback this season. Still, this team favors shades that have personal meanings: Aemilia Madden, TZR's Senior Fashion Editor, prefers a periwinkle that reminds her of snowflakes, while Contributing Senior Style Editor Mecca James-Williams prefers a softer version of traditionally bright nail polish colors, like butter yellow.
Of course, some of the team prefer to keep the same nail color year-round: Editorial Assistant Kelsey Stewart wears the same black nail polish no matter the temps. As you can see, the team's favorite nail polish shades are reflective of every kind of #mood... which makes it all the more easier for you to find one that suits yours.
This article was originally published on