9 Ways You Should Be Wearing Skinny Jeans And Ankle Boots Right Now
REX/Shutterstock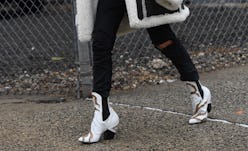 Certain combinations are timeless — Romeo and Juliet, a burger and fries, and the classic clothing duo, skinny jeans and boots. But, even those ever-enduring mash-ups need a refresh sometimes. As the weather gets chillier and the days get shorter, keeping warm and looking stylish isn't always an easy balance to achieve, especially when it's below zero — which is why having a go-to look like jeans and boots can save you from stressing over what to wear each morning. But, if you're bored by the idea of replicating the same look over and over, here are plenty of simple ways to mix up your standard denim and boot styling.
By adding in an of-the-moment trend — say, snakeskin boots or high-waisted denim — a once-tired combination feels brand new all over again. Take note from the street style set that while boyfriend jeans and even full suits are of-the-moment looks to try, skinny jeans aren't going anywhere. Below is a collection of nine new (and refreshingly easy) outfit ideas to help you breathe new life into your favorite outfit combination this winter. From light wash to cropped and from sock boots to combat styles, you'll find no shortage of inspiration to keep looking chic even on this season's most freezing days. Winter is coming—and you'll be ready for it.
Statement Boots + Dark Wash Jans
Want to create a standout look? Go for a super bold boot in a bright color or a bold pattern to add some oomfph to your dark skinnies. Whether you choose to pile on the color or keep it neutral on the top of your outfit is up to you.
Classic Black Boots + Cuffed Jeans
To really show off a pair of boots that you love, roll your denim cuffs higher up so that the focus is entirely on the shoes. Word to the wise: do this sooner in the season rather than later to avoid frozen ankles.
Sock Boots + Black Jeans
Sock boots are a winter secret weapon because they'll help keep your ankles toasty and warm when the temperatures drop. Go for a sleek black style and tuck them underneath the hem of your jeans for a seamless look.
Jewel-Tone Boots + Medium-Wash Jeans
Add a pop to more subdued outfits by investing in a jewel-tone boot, say in burgundy or green, for your winter wardrobe. Pair them with a medium-wash denim for a more colorful look or reach for a pair of black or white skinny jeans if you want the shoes to make a statement on their own.
Pointed Boots + Cropped Jeans
Black pointed-toe boots paired with slightly cropped denim elongate the legs. Denim with a raw hem is also great because it makes a look feel a little less polished, while a pointed boot adds just the right amount of edge.
Snakeskin Boots + Black Jeans
Snakeskin has become a top trend this season and it won't be going anywhere once all of the leaves have fallen. Find a reliable pair and get ready to pair them with your favorite black skinnies. Add on a sweater and a faux fur coat and you're all set to go.
Shake things up by pairing a super sleek patent boot with skinny jeans that are slightly ripped at the knees. The drama of the boot mixed with the laid-back denim is an easy way to achieve the elusive dressed down look, without having to overthink it.
Lug Sole Boots + High Rise Jeans
Find a comfortable high-rise pair of jeans and mix them with another big trend for this year, lug-sole boots. This is a pairing that you can wear even when it snows, so that amidst the slush and sleet, you're still looking put-together.
Over-The-Knee Boots + Light Wash Jeans
Over-the-knee boots and skinny jeans worn together are a combination that seems to never go out of style. An added bonus: when the weather gets insanely cold, you've got an extra layer keeping your legs warm. While typically, you might go for black on black, try switching things up with a lighter wash.
Combat Boots + Distressed Jeans
If the combination of ripped denim and combat boots has you thinking of the '90s grunge era, allow us to bring the pairing into the present. Boots with interesting hardware and slightly distressed denim can still be polished, espeically when you pair them with a tailored coat.