8 New Yorkers Share The Winter Staples They're Buying Right Now
Andrew Morales/WWD/Shutterstock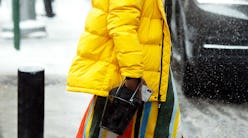 Winter is innately rough for New Yorkers. The icy cold weather is compounded by the fact that commuting conveniences like parking garages and vehicle seat warmers are replaced with slippery subway platforms and slushy sidewalk puddles. But despite their need to be practical, New York's residents know that winter fashion staples also have to look good. Heat-tech tights, and thick socks aside, the best staples are those that manage to serve their wintery purposes without throwing style completely out the window.
Ahead, nine fashionable New Yorkers weigh in on which winter items they considering essential this season. There are a few usual suspects, like the insulating puffer jackets that took off last year thanks to Instagram buzz around Aritiza's Super Puff. But you'll also be surprised to learn about the bags and yes, high heels, that these editors, designers, entrepreneurs, and writers are relying on to get through the coming months without sacrificing their internal body temperature or the integrity of their outfits. If residents of any city can make commuting through snow look good, it's those that call Manhattan (and Brooklyn) home. Continue to discover nine winter essentials you may not have thought about before, and shop your favorites to stay stylishly warm from here on out.
Furry Bag
"I can't live without [my] Hayward mini bag," notes Tara Lamont-Djite, a freelance writer who has contributed to publications like Harper's Bazaar, Elle, and T Magazine. "Firstly, I love a mini bag. Secondly, add fur to a mini bag and you have the ideal winter combination. It's chic, but cozy." Consider it your own personal hand-warmer.
Puffers and Fleece
"Lately, I've been trying to stock up on as many cool puffers and fleeces as I can," writer and influencer Jo Rosenthal says. "I find myself wanting to maintain a good fashion sense even when it's blistering cold out, and I feel like cool outerwear is crucial for that. My mom always like to say it's more important to be warm than fashionable, but I can't help it." Luckily, this season's offerings serve up a balance of both.
Wool Scarf
"I'm excited for scarves! I've realized the value of accessories when it comes to winter staples," stylist and TZR Contributing Senior Style Editor Mecca James-Williams says. "A beautiful cashmere wool scarf in different colors can really enhance your winter wardrobe!"
Shop Her Pick
Wedge Boots
"I'm obsessed with the Myra Boots from Jack Erwin," freelance writer Monica Mendal says. "It was their first time doing women's shoes this season and they totally nailed it. The Myra booties are both functional and stylish; they have a slight wedge that elongates the leg ... I'm short and need all the help I can get ... and they're super comfortable for running around the city all day." If you're looking for boots you can walk Manhattan in, these fit the bill.
Down Coat
"Perhaps it's because I'm West Coast-raised, but when it's frigid out, I need a down coat to envelop myself in," POPSUGAR Senior Editor Laura Lajiness tells TZR. "With a rather robust lineup of black options, I'm switching things up this season in favor of a gorgeous white maxi from Mackage. The belted silhouette helps define my shape when I'm extra bundled while the sporty drawstrings add a fun and sporty element to it. To me, it's pretty much the chicest way to rock a puffer in the city."
Creatively Layered Outfit
"I wear slip dresses year round," SVNR Founder and Designer Christina Tung tells TZR. "Now that it's chilly, I layer them with a turtleneck underneath or a matching sweater and tall boots for a monochromatic look." If you typically find yourself wearing all black all week, rotate a colorful slip dress into the mix.
Shop Her Pick
Lug-Sole Boots
For Northeastern native Kerry Pieri, it's all about the right winter shoes. "I'm a New Yorker who comes from Buffalo so while my cold weather footwear requires a lug sole, I can also handle a heel on ice like a pro," the Harpers Bazaar Fashion Director says.
Menswear-Inspired Coat
"All season I had been on the hunt for the perfect strong-shouldered, boxy, extremely tailored menswear-inspired coat and I finally found it at Zara," Who What Wear Fashion Editor Lauren Eggersten shares. She co-founded the Instagram account @thedevilwearszara and knows a thing or two about scoring finds at the fast fashion retailer. "Coming in at a relatively affordable price point, this coat has barely left my body since I bought it. I get so many compliments on it and it keeps me so warm. No matter what I'm wearing, throwing this coat on top results in a polished-looking outfit every time."
Top-Handle Bag
Handbag designer Olympia Thomson has a seasonally-appropriate purse on hand at all times. "Lately, I cannot live without my new denim-suede top-handle bag. The leather is silk-screened in a vintage denim print, so it feels as versatile and season-less as my favorite pair of jeans," she says. "I've been wearing it with everything from cozy knit sets to sleek tailored suits, and I've even used it for a next-level Canadian tux!"