The New Shoe Line That Minimalists Will Love (It's Giving Serious The Row Vibes)
COURTESY OF JACK ERWIN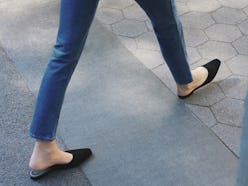 Whether you're someone who sticks to a clean, minimal aesthetic or you're just after elevated everyday shoes, the new Jack Erwin women's collection is one to have on your radar. From sleek low boots and effortless mules to classically chic loafers, the New York-based brand's first-ever lineup of women's styles boasts so many closet essentials that you'll undoubtable turn to time and time again. Even better? Nothing in the collection rings in for over $240.
No stranger to footwear, Jack Erwin has been serving up refined, high-quality men's shoes since 2013. And while expanding its offering to include women's styles has continued to be on the co-founder's minds since launching six years ago, they wanted to take their time developing the line until it felt ready. "We didn't want our first women's collection to be an afterthought or a menswear inspired women's collection," Lane Gerson, Co-Founder of Jack Erwin, tells TZR. "We wanted it to be considered in every way — to stand on its own as a line of minimally designed, thoughtfully constructed shoes that women could also confidently and effortlessly wear on repeat."
From the "Paz" mule, $145, and the "Myra" wedge ankle-boot, $240, to the $175 "Morgan" Venetian loafer, the initial collection includes a range of stylishly understated footwear that's both versatile and timeless. "We wanted to provide a complete yet consolidated assortment of shoes — a set of staples for her closet," says Julia Arnhold, Director of Women's at Jack Erwin. "To do this, we developed nine styles that all contribute something unique to the collection as a whole, yet each on its own is minimal in design, transcends trends and seasons, and elevates any outfit."
All of the collection's no-fuss styles are designed to be worn on repeat, with the brand paying special attention to the heel heights, pitches, and silhouettes so that they're comfortable to wear from morning until night. And considering the co-founders site New York City as their inspiration, this thoughtfully developed line is as stylish as it's functional for the metropolitan commuter lifestyle.
"New York City is our home. We're continuously motivated by its culture, its pace and its people — people who are energized, going places, and taking it all in," says Jack Erwin Co-Founder Ariel Nelson. "With this as our inspiration, we create everyday shoes meant to be worn and enjoyed by people who live in cities. Shoes that are not fussy, finicky, or fragile. Shoes that are timeless and refined, yet effortless."
Convinced you need to bring a pair into your wardrobe? Continue on to start shopping, and head over to Jack Erwin to view the rest of the collection.