These Are The Editor-Approved Thanksgiving Outfits You Need
Tal Rubin/GC Images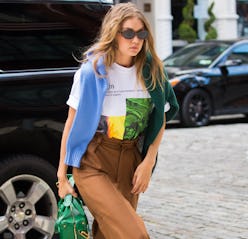 You can't change the fact that you haven't earned the right to know Great Aunt Bernice's biscuit recipe or that you can't play QB in the annual football scrimmage. But, putting together the coziest, most stylish Thanksgiving outfit at the table — that's one aspect of the holiday where you can plan for success. For TZR's team of editors, the holiday comes in a sweeping range of locales and intensities of celebration. Which means our own dressing plans can help inform your own get-together ensemble, no matter how laid-back or raucous the day may be.
Below, our shopping news editor shares her formula for a cozy Kentucky get-together, our senior social media editor dives into the right look for a semi-formal Santa Barbara affair, and I too explain my recipe for getting fancy even in the backwoods of California wine country. The key is to consider comfort, but takes things up a notch from your usual sweatshirt and sneakers by opting for luxe fabrics and tailored fits. While the day may not go entirely as planned — pies will be burnt and cross-table arguments will break out — at least you know you nailed the outfit portion of the whole shindig. Find our styling suggestions below.
Anna Buckman, Shopping News Editor
"For Thanksgiving, which will most likely be spent eating way too much food on a couch at my grandma's house, I plan to wear my favorite cozy-but-cute uniform. Wide-leg black jeans, a big sweater, and boots."
Lauren Caruso, Site Director
"The perfect Thanksgiving outfit allows you to go from looking presentable during dinner to passing out with half your family on the couch. This outfit ticks both boxes. I'll swap comfier pants in once I'm truly full."
Khalea Underwood, Beauty Editor
"I don't bother to get all dolled up for Thanksgiving, the last time I did so, I spilled cranberry sauce all over a crisp white blouse and could barely button up my jeans once dessert came around. Now, I prioritize comfort over all. A two-piece jogger set is everything I want in an outfit ... oversized and stretchy, without sacrificing style. As for shoes, I'm slipping on a pair of ... stay with me here ... UGG boots. Of the velvet variety. Because if I'm spending the day helping my mom in the kitchen, I might as well treat my feet to something soft."
Shelby Hyde, Shopping News Editor
"Staying true to my love of a chic coordinate set, I'll probably stick with a monochromatic look that requires little to no effort. But because my family is coming to town and we'll be spending Thanksgiving in the city, I'll opt for a super elevated hue or fabric with a longline coat and more casual shoe option for showing my family around the city."
Aemilia Madden, Senior Fashion Editor
"This Thanksgiving I'll be celebrating at my family's cottage in a rural pocket of Napa Valley. It's an outdoorsy setting, but I can't lie ... I'm a total sucker for unnecessary dressing up. In fact, my mom can attest, I was known as a child to show up at the dinner table in a velvet gown and gloves. My happy compromise is an aesthetic I'm referring to as naturally-fancy. A decadent dress, but more practical boots plus a sweater over my shoulders, just in case."
Angela Melero, Deputy Editor
"This year, I'm co-hosting a laid-back L.A. Friendsgiving and I'm keeping my outfit casual and comfortable. I love the look of this billowy kimono top over a pair of leather straight-leg trousers and a fun bootie or kitten heel."
Aidan Macaluso, Senior Social Editor
"When it comes to holiday dressing, I like to keep my looks relatively simple, and rely on accessories to make them festive. For the semi-formal Thanksgiving dinner I'm attending, I'll pair an all-black look with a pair of layered headbands."
Ryan Gale, Assistant Market Editor
"I like to eat what I want and as much as I want and I don't need my outfit interfering with that. So something festive and comfy it is! Love the aribush colors on this turtleneck and the fact that its light enough to be worn under a slip dress."