The 9 Puffer Jackets That Make You Look Instantly Polished
Christian Vierig/Getty Images Entertainment/Getty Images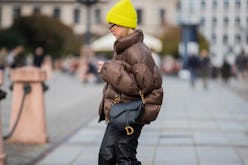 From classic, wool wrap coats to casual fleece-lined jackets, your outerwear options are virtually endless. However, in the chance that you're looking for a simple style that's bound to keep you warm all season long, you won't go wrong with one of the top puffer jackets for fall. Historically, this style can be a little on the sportier side, but that doesn't mean there aren't iterations out there that can be super chic.
The days of leaving the house without an outer layer are getting less and less frequent — which means that even a lightweight knit turtleneck layered underneath a chunky sweater might not cut it anymore. And of all the winter coats there are on the market these days, a quilted puffer coat strikes the perfect balance of casual and polished. Plus, with this particular trend's resurgence within the fashion world, there's no doubt there's a style that's perfect for you.
Puffer jackets have come a long way since they became one of the top trends in the '80s, where neon jackets and vests dominated the decade's fall and winter fashion. And while you can still find a vibrant option to brighten up your ensembles, there are plenty of styles that check all the boxes of today's trends: sleek, elevated, and of course, warm.
If there's one timeless puffer jacket that continues to be a popular option among It girls everywhere, it's Nanushka's Hide Puffer, $620. Made with vegan leather, this luxurious jacket will instantly dress up any ensemble — no matter what you're wearing. Another great option is Aritzia's $250 Super Puff, which is designed to keep you warm in temperatures as low as 22 degrees Fahrenheit and comes in a variety of colors.
For anyone who's looking for something to wear to and from the office, Canada Goose's $895 Hybridge CW Jacket Black Label features a fitted silhouette that will keep any outfit looking put-together for regular commutes. Of course, if you want something that feels more casual, THE ARRIVALS' $695 Aer Mini Leather will give all of your looks an edge of cool.
Just in case you're working to make your closet more sustainable and ethical, there are plenty of brands creating styles using recycled materials, like Everlane's Re:Down Puffy Puff, which costs $168 and features 100 percent recycled polyester and 100 percent recycled down and feathers. You can also get the $168 Giga Classic Puffer Jacket, which is a cruelty-free option from Save the Duck.
Scroll down to shop these puffer jackets and more below.