This Matte Pink Lipstick Looked Good On EVERY Model At The VS Fashion Show
David Fisher/Shutterstock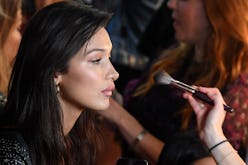 To put it plainly, there is a lot going on backstage at the Victoria's Secret Fashion Show. For starters, you'd be hard pressed to find any space with wall-to-wall pink carpet, bedazzled silk bathrobes, and technicolor curling irons. But aside from that, there are dozens of top models from all around the world (this year's show represented 20 countries, to be exact) along with their personal entourages, the swarming press, and handlers making sure that journalists don't exceed their 20-minute time limit. In the midst of all this chaos was a breath of fresh air with red hair: key artist Charlotte Tilbury, who wielded the Victoria's Secret Fashion Show 2018 makeup products with ease despite the madness surrounding her chair. The legendary talent used a plethora of products from her eponymous line, along with goods from Victoria's Secret in-house brand to create a fresh, natural-looking glow on all 60 models.
"It's an angelic filter to enhance what nature naturally blessed you with and to make you look and feel like a beautiful, celestial angel," Tilbury said in a release to TZR. "A look that lights up the runway and casts a magic makeup spell on the world!"
And it's a look that can be yours, too, with the help of a few simple products. See some of the standouts ahead, and fly high!