Here Are The New Holiday Eyeshadow Palettes That Deliver Party-Worthy Sparkle
Sephora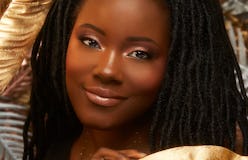 Regardless of how you celebrate the most wonderful time of the year, one makeup trend binds all beauty fans together: sparkle. And the holiday 2019 eyeshadow palettes certainly step up to the shimmery, glitter-dusted plate. Like a gold lamé dress thrown on for New Year's Eve, a metallic eyeshadow palette can put you in the holiday party mood faster than a glass of egg nog (or any of your neighbor's caroling).
You have more than a few shopping choices to make this year, too. Everyone from Pat McGrath Labs to NYX Professional Makeup have released eye-catching, shimmer-heavy eyeshadow palettes for the holiday season — with gold being a key color amongst them all. Then again, it seems as if you can find a glittery palette no matter your favorite color: The LORAC x Rachel Zoe holiday capsule collection offers up glitzy greens, while the MAC Cosmetics holiday 2019 collection revolves around rosy shades of pink and plum.
There are even palettes for those who prefer to keep their holiday parties and makeup collection entirely separate. While both launched before Halloween even arrived, NARS and NYX turned to the late '70s for end-of-year soirée inspiration. Or, more specifically, the glamour of a lively dance floor. NYX's Love Lust Disco collection captures the warm tones and bold metallics of the era, whereas NARS' Studio 54 collection zeroes in on the iconic club (via reds, pinks, and neutrals that'll pop against any party ensemble).
And what do all of these launches mean for you? As of now, you may have no clue what you'll be wearing to any holiday party on your schedule — but at the very least your makeup look is about to be sorted. Ahead, eight recently released holiday eyeshadow palettes that don't skimp on the party-ready sparkle.