This $20 Target Holiday Gift Set Would Thrill Any Skincare Lover
Pixi by Petra/Instagram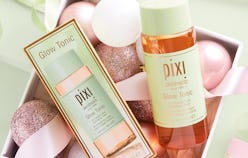 While all holiday sets are worthy of a place on your shopping list — they're practically pre-wrapped! — the holiday beauty gift sets at Target are particularly special. Maybe it's the fact that you can pick them up on your next grocery-home decor-beauty aisle run (a three-step combination any Target fan knows well). Or, even more likely, it could be that they're available online — and actually very, very affordable.
And according to Target's website, there are two major launch days to mark on your calendar if you want to shop its upcoming holiday releases: Nov. 3 and Nov. 10. Some of the most eye-catching holiday launches will be arriving those two days, from iconic Target beauty brands like Pixi by Petra, e.l.f., and Kristin Ess.
Make sure you pick up any that steal your heart ASAP, as well. As is common with holiday releases, many of these kits and sets are limited edition, and only available during the gifting season. So, without further ado, keep on scrolling to peruse the nine sets you should add to your list (sorted by online launch date, of course).
Nov. 3 Arrivals
NYX Professional Makeup, e.l.f., and Essie holiday sets will be launching online Nov. 3 — amongst many other buys. A handful of these gift bundles include options from brands' recent beauty collections, as well, such as the Love Lust Disco Glitter Goal Liquid Lipstick Holiday Kit (which is a part of NYX's Love Lust Disco launch).
Nov. 10 Arrivals
Not to be outdone, Nov. 10's launches also pack an impressive punch. Four $20 gift sets from the cult-favorite drugstore beauty brand Pixi by Petra will be arriving online: the Best of Tonics set, Best of Retinol set, Best of Milky set, and Best of Mix set (in case you just can't choose). New $15 holiday sets from Kristin Ess will land online Nov. 10, as well; this includes the Pillowcase + Mini French Pin set and the Detangling Brush + Sectioning Clips Hair Styling set.