7 Winter Nail Trends, Courtesy Of Jennifer Lopez, Hailey Bieber, Bella Hadid, & More
Kylie Jenner / Instagram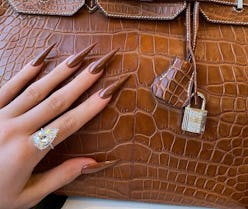 Between Harry Styles sending Twitter into an outright tizzy with his yellow and silver-painted digits from the "Golden" music video and the inevitable wave of election-fueled "vote" manis that followed, nails have been a hot topic of conversation throughout the fall. If it's true that the celebrity manicures of today dictate the winter nail trends of tomorrow, then rest assured we're in for a season of high drama.
Metallic shades are no new forecast ahead of the holidays, but this year, they're joined by increasingly popular 3D decals. These bauble-type nail additions are utterly extravagant (albeit mildly impractical), keeping the Christmas and New Year's Eve aesthetic supremely festive and shiny.
What's even more intense, though, is the length and shape of the nail, which seems to be getting longer and sharper, if you can imagine it. At the opposite end of the spectrum, you have very neutral "milk nails" and the newly emerging coolness of taupe.
Also balancing out the drama is a minimalist take on 2020 nail art and a shade of blue so dark it dares to be called black. Seven winter nail trends — as predicted by the likes of Hailey Bieber, Kourtney Kardashian, Jennifer Lopez, Bella Hadid, and more — ahead.