7 December 2018 Nail Trends To Carry You Into The New Year
Michelle Saunders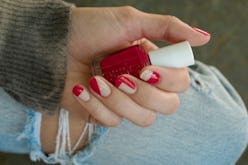 There's something about the start of a new month that always ignites a burst of style inspiration… especially when flipping to a new page in your monthly planner makes you notice you're in serious need of a fresh manicure. (Just me?) Luckily, with new winter and holiday nail polish collections from Essie, Zoya, Deborah Lippmann, and more, there's no shortage of mani inspiration for the month ahead. According to celebrity manicurists, the December 2018 nail trends are all about reinterpreting holiday cheer in a way that's not too on-the-nose, all the better to carry you into the new year.
While sparkle will always be a seasonal staple, the 2018 way to shine is less about disco ball glitter and more about office-appropriate shimmer. "Adding shimmer to a light pink or nude manicure is a chic and sophisticated way to incorporate this playful nod to your style," Deborah Lippmann, celebrity manicurist and founder of her eponymous polish empire, tells The Zoe Report. "It's easily worn from day to night, in office settings and at parties."
Glitter not your thing? No problem. Minimalist nail art is trending now, too, with designs that rely on negative space to make a major statement. "When a little bit of the natural nail peeks out in between designs, it feels so modern," Michelle Saunders, a celebrity manicurist who works with Mandy Moore, tells TZR.
Ahead, discover the seven can't-miss mani trends of December for every style (and every skin tone), straight from the pros.
Half Moon
"We are loving the traditional half-moon mani," Caroline Darr, a brand representative for ZOYA Nail Polish, tells The Zoe Report. The style works with any polish color, although Darr recommends Leigh, the brand's pinky-beige hue, for fair skin tones; Carson, a dusty rose, for medium skin tones; and Kateri, a deep chocolate, for dark skin tones.
Want to get the look at home? "Apply your base coat and allow to dry, then add a circle sticker to the bottom of your cuticle," Darr instructs. "Paint color over and allow to dry, the gently tear off sticker and apply your top coat."
Glitter
"I love glitter," Lippmann shares — but advises reining in the look for everyday. "Accenting with a glitter nail provides a festive, yet more subtle, sparkle." A swipe of the brands neutral This Magic Moment is just enough to brighten up a basic manicure.
"For a bolder look, the Concrete Glitters Collection from Essie features jewel-toned textured colors that look amazing when used in nail art," Saunders says. Try Essie's City Slicker (a deep magenta) or Night Owl (a glimmering green) for a festive touch.
Winter Red
No matter the season, a simple red manicure always works. "December is a great month to have fun with color since we are in festive mode," Gina Edwards, a celebrity nail artist who's worked with everyone from Tiffany Haddish to Rosie Huntington Whitely, tells TZR. "Candy apple reds and aubergines are perfect." Saunders suggests Essie's Hear Me Aurora — it's what she calls "winter red."
Negative Space
"I also love simple, bright, or metallic abstract nail art with negative space showing," Saunders adds, saying the look is easy enough to pull off at home. "The best part of creating modern nail art is the simplicity of it — a dot here, a line there, a swipe of color near the cuticle or at the tip," she says. "The designs are endless!"
Leopard Spots
Why not get a little wild for New Year's Eve? "One of our newest toppers, Leopard Spots, gives the right amount of edgy for the holidays by creating a leopard print finish to your manicure," Darr says of ZOYA's new release. While the design may initially feel a little complicated to handle on your own, Darr maintains that it's surprisingly simple.
"Use any textured PixieDust polish after your base coat is applied, and let color dry," she explains. "Apply a light coat of the Leopard Spots topper over the PixieDust to create the leopard pattern on the nail" — it essentially "crackles" into a spotted finish — "then add a top coat and our Fast Drying Drops."
Sheer and Iridescent Colors
"My Winter Romance set features two polishes that are perfect for a soft, wintry look," Lippmann says. She recommends Moonglow, a holographic iridescent blue, for darker skin tones; and says Snowflake Kisses, a sheer soft pink, is ideal for those on the fairer side.
Metallics
For eye-catching shine minus the glitter, opt for metallic hues. "Toy with bronze or gold metallics to ring in the new year," Edwards suggests. There's an Essie shade for every style: Try a light, yellow-tinged gold with the brand's Good As Gold; experiment with copper-y shades via Penny Talk; or go for the bronze with a coat of Essie Leggy Legend.