If You're Just Not Into Baths, Try These Relaxing Shower Products Instead
J.R. Watkins / Instagram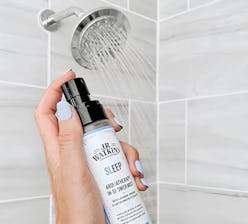 A bath is the poster child for self-care nights, but when you can't bear the thought of shriveling up in water that cools off *way* too fast, where do you turn? To a slew of relaxing shower products, of course. While your daily rinse off may usually be viewed as a chore or boring must-do, if you're short on time or prefer standing, your shower can be an equally relaxing place of respite.
Read more: Why Frankincense Oil Is Like "Liquid Gold" For Your Skin
Brands have seemingly caught wind of the lack of products available for taking luxe showers, and they haven't just settled for nice-smelling gels or cool shampoos. Nope, these are products that were built for winding down and clearing your mind right underneath your shower head. The options are continuing to expand, and even the most buzzy bath products like bath bombs have been adapted for a showering environment.
The scents and ingredients used in a shower setting have also received an upgrade. Those who are diehards for the classics will still find their trusty lavender and chamomile, but if you're wanting to reach for something new, you'll discover fragrances such as Japanese mint and geranium to help take your routine to a fresh new level.
Crank the handle, and bring the following products in with you for your most relaxing shower yet.