7 Cool New Bag Brands You Haven't Heard Of Yet
ANDREW MORALES/WWD/Shutterstock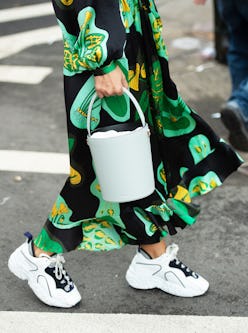 In the age of Instagram, new and exciting fashion is always at your fingertips. Whether you're scrolling for outfit inspiration, eyeing influencer-approved accessories, or discovering a just-launched shoe brand or new handbag designers, unearthing fresh labels is a near-daily occurrence for the sartorially driven — a blessing when the inspiration light dims on even the most well-stocked of wardrobes.
While the newest arrivals from Zara will always entice, it's those emerging brands that can set an outfit apart. There's a draw that only a never-before-seen item can bring, and so often, said items come in accessory form, namely, a handbag. A cool purse is a type of kryptonite for trendsetting women. From micro minis to sleek handhelds and too-cool carryalls, bags transform even the simplest outfit. Designer labels are a guaranteed hit, but new and under-the-radar labels habitually prompt the question of who makes your bag? And more importantly, bring in all the likes on the 'gram without the influence of a powerful logo. That's when you know you've earned your fashion chops.
While new brands are popping up in myriad ways, ahead, peruse an edit of seven new bag brands TZR discovered on Instagram. These labels are so fresh that they all have less than 10,000 followers on Instagram — for now. Let this serve an official prediction that each one is about to blow up and become a household name in no time.
Gu_de
Seoul-based brand Gu-de is a line of vintage-style handbags inspired by '70s haute couture. Understated and feminine, unique shapes and ladylike details culminate into a line of timeless-looking bags with a distinctly modern edge. Newsflash: The brand is available to shop on Net-A-Porter.
mimii
Handmade in Paris, mimii is a line of quirky handbags that befit those craving a bit of unexpected eye candy. Whether you go for a tweed, beaded, or embroidered style, the brand's signature quilted silhouettes feel like elevated pieces of handicraft art no matter which style you choose.
Sonya Lee
Founded by Stephanie Sonya Ibbitson in 2014, Sonya Lee is a refined collection of architecturally-leaning bags, handmade in Vancouver, Canada, crafted from the highest quality vegetable tanned leather. Boasting super-clean lines and sleek hardware, every bag is pristine whether it's a cylinder-shaped handheld, embossed belt bag, or chain-link-adorned tote — suited to those who crave unique shapes in versatile, neutral tones.
if i fell
if i fell is a line of made-to-order and limited-edition handbags, respectfully sourced and made in US. With a conscious ethos, the brand serves up the sleekest bucket bags in refreshingly punchy hues like lavender, poppy red, and the prettiest pale blue, aka "cloud" to pop against everything from feminine dresses to tailored workwear. Bonus: the satin pouch inside the brands signature Fell Bag can double as a second bag and you can design your own in a custom color (which can involve an alternative pouch color if you're into a colorblock effect) to arrive within 7 to 10 business days.
Chippy
Chippy shines light on all "the little things," per the brand's website, and it couldn't be more true. The newly-launched label by Allison Stefanoni began in June of 2018, serving up lighthearted, nostalgic, and sometimes comical designs all of which are one-of-a-kind and sourced from vintage materials and handcrafted in the West Village of New York City. The debut collection revolved around vintage baskets that sold out in a flash (though the designer is hoping to bring them back next summer) and for fall, the brand is focusing on textures from knits to tweed and patchwork in the too-cute Afterschool Special-themed collection.
Jeoi6
Founded in Paris in 2017, Jeoi6 is built on clean shapes and artful design. As the brand puts it on its website, "we do art, not just bag," which translates to a distinctive aesthetic that will appeal to minimalist tastes with an avant-garde lean. Offering one signature shape in two shades — black and white — the bag is decidedly sophisticated and a total conversation starter. Scoop one up asap before it becomes impossible to get your hands on one.
Peju Obasa
Crochet is nothing new, but in the form of a sporty belt bag it's suddenly one of the most unexpectedly genius crafts you've ever seen. Enter the London-based bag brand, Peju Obasa, centering around half moon-shaped belt bags finished with sporty straps and side-release buckles, made from recycled textiles. Coming in a range of vibrant shades from neon to pastel, this line fuses handicraft work with streetwear appeal — the kind of bag you never knew you needed, until now. While the brand's website is coming soon, you can direct message the designer to place an order in Instagram where bags will range from about $160 to $240.