7 New York Brands You Don't Know Yet — But Should
Pixelformula/SIPA/Shutterstock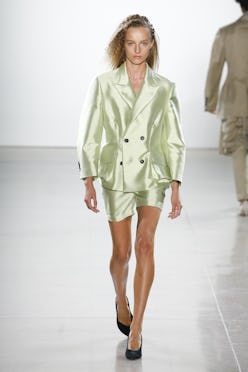 Ralph Lauren, Marc Jacobs, Proenza Schouler are all iconic brands that call New York Fashion Week home. But, the beauty of fashion week is that these major stakeholders share the calendar with up-and-comers who, whether brand new or on the cusp of making it big, may not be household names just yet. For editors, it's part of the excitement to see up and coming New York Fashion Week brands; having the chance to see the work of designers who are injecting the industry with new perspectives, and years down the line could be household names too, is huge — and we found a handful that we're really hot on.
Each of these seven outstanding brands may not have been the most celebrity-packed fashion week shows — and may not have had coveted time slots — but they were some of the shows must buzzed about by editors and industry insiders. While some of these brands have made their way onto retailers Barneys and Net-a-Porter— some of which have actually been around for a few years — others may have been slow to start, and take a little extra hunting to track down when it comes time to shop. One thing's for sure, though: They're all worth keeping an eye on as they navigate their ways into the spotlight.
Area
In the three years since it was founded, Area has quietly asserted itself as a favorite among fashion insiders. Though the brand has yet to become a household name, in the last few years, it has gained steam thanks to the ability designers Beckett Fogg and Piotrek Panszczyk to create clothing that is both wearable and whimsical. This season, the collection was inspired by a Czech artist from the 1960s, Libuše Niklováand, included everything from a high-gloss maxi trench coat to mod minidresses.
Pyer Moss
For this season's runway show, Pyer Moss designer Kerby Jean-Raymond looked to The Negro Motorist Green Book for inspiration, which was an annual travel guide for African-Americans during segregation. Though the brand was founded in 2013, momentum for the contemplative brand continues to grow. A 2018 collaboration with Reebok helped Pyer Moss achieve a new level of notoriety, and in the new year, expect continued growth.
Nanushka
Though oringially founded in 2006, Budapest-based Nanushka has taken off with an impressive amount of both commercial and editorial success in the last two years. The casual-cool pieces have quickly become a uniform for many editors, who milled about the brands NYFW presentation snapping shots of the precious handbags and comfortable separates throughout.
Matthew Adams Dolan
Though only his third NYFW show, Matthew Adams Dolan has established himself as a designer to watch on the New York circuit. The Parsons graduate has a knack for reimagining workwear, from his pastel suits, to his utility belted canvas separates, there's a practicality that shines through even the most fashion-forward pieces.
Sies Marjan
In just two and a half years, Sies Marjan designer Sander Lak has amassed a cult following within the fashion industry (earlier this year he won the CFDA award for emerging talent). With a propensity for bold colors and an ability to cut clothes in a way that just look so comfortable, prepare to see more of Lak in the years to come.
Bevza
Though Bevza hails all the way from Kiev, Ukraine, the brand's NYFW runway show was a notable one. Minimalist, but peppered with '90s details, the latest collection touches on a few of spring's biggest trends (fanny packs, ruching, and flip-flops included), but with a subtlety that prevents it from feeling overtly trendy.
Batsheva
Batsheva Hay founded her namesake brand in 2016, looking to reimagine historical styles of dress in a modern way. Inspired by the restrained details of eras that range from victorian to the days of the Oregon trail, Batsheva is the brand bringing the past in to the present. This season, Hay presented the collection in a Tribeca diner, complete with french fries and dresses with high-volume sleeves and lacy necklines.