The New Bag Line You're Seeing All Over Instagram Is Designed By A 24-Year-Old
Photo: Brooke Ashley Baron/Courtesy of Janis Studios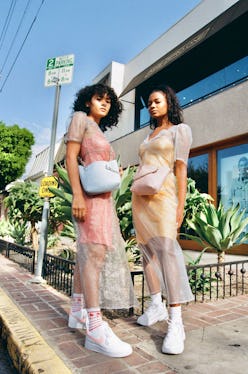 As fashion editors, we're always striving to uncover hidden talent, or at the very least, be one of the first to photograph, write about, or personally wear a buzzy new brand. But editor or not, social media has become a major resource for discovering fresh labels, and brands seemingly pop up in photos throughout your feed overnight. This how I discovered the bag line you're probably seeing all over Instagram, too. The bag is the Darka Bag, and it's designed by 24-year-old Janis Munz, under the label Janis Studios.
When I spotted a Janis Studios bag for the first time — the fact that the photo had a fluffy dog inside the signature Darka bag may have had a lot to do with my swift halt and double tap — my attention was grabbed. There before me was a pristine, pastel mini bag I was alarmingly unfamiliar with, and I needed to know more.
"I've loved the square shape since I was a kid," founder, designer, and Parisian Janis Munz tells me of her signature Darka bag — a square, open top silhouette which comes in a small and large size and in three different colors of leather or a denim fabric. "My older sister and I wanted to create a magazine called Le Carré — square in French."
Munz has more than an adoration for the shape, however. She explains that Darka is an Arabic word that means "something enjoyable, a moment or person", which is, in her words, "the vibe I wanted for the brand". It's also the middle name of the women in Munz's family, including herself. When coming up with the design for her signature bag she says in a very French way, "I wanted a bag 'passe partout' — you can wear [it] all the time and [it] doesn't rely on trends."
Before getting into the bag business, Munz started with hand embroidery two years earlier upon moving to New York to work in film and TV. After deciding she could no longer do both, she brainstormed businesses she could build on her own that would also align with her values and taste, leading to the design of the Darka bag in the summer of 2017. "I raised money the following fall, left my job in the winter, and officially launched in March 2018, on the first day of spring."
While Munz still offers embroidery services, bags have become the focus. "I saw a hole in the accessory industry, so I jumped right on it! Once I had the idea, it was over, I had to go through with it."
I was initially drawn to the clean lines and pastel colors of Munz's Darka bags, but the high-shine hardware likewise caught my eye as a distinctive quality. "That's where the hole was in the industry," she explains. "Interchangeable handles were either a cheap thing or a very expensive one. Plus, it allowed for the Darka Bag to have a trend-following aspect."
More than a feature that can change with your mood, Munz's interchangeable handles — which include a silver chain link, circular gold hoops, or rope handles — were designed to transition each Darka bag for any occasion — daytime or evening, casual or edgy.
If, at this point, you haven't already clicked over to buy yourself a Darka bag, there's another reason to adore the line — the collection is consciously designed in Paris and ethically made in New York City. "I wanted to keep control of who was making the bags — that's why we produce locally," Munz says. "I know the workers who sew the bags, in what conditions they work, etc. Same for the materials — I know where they come from and who has worked on them. Ethical was a key word for me."
If you're curious of the nitty-gritty, Munz says the denim bag is 100 percent sustainable and made from upcycled denim in Guatemala and the leather used is sourced in Italy.
Munz attributes much of her early success to connections she made with her embroidery business.
"Networking has been key," she says. "To me, the essential marketing key was to stay very community-based. I wanted to personally meet the people who'd rep the bags, not just send random gifts to VIPs who maybe would be caught wearing the bag. We're a small business and every bag counts."
Another way Munz is growing her business is with a breakfast club of sorts which she calls #PetitDejeunerWithJanis. "It was a way for me to meet women (or men) that influenced me," such as editors and influencers. "From these conversations, we grew connections with really amazing people," she says.
Fashion influencer Courtney Trop of the blog Always Judging has posted a handful of photos with the Darka bag in hand. "I love the simplicity of her bags with the chain detail," she tells me via email. "It's fun to mix her pieces with some of my vintage clothing."
Editor and influencer, Alyssa Coscarelli — aka @alyssainthecity — loves Janis Studios for the reason that you won't see every girl on the street with the same bag. She says, "they're unique, and since a lot of the straps and chains are interchangeable, you can adjust her bags to suit your looks. I'm a loyal fan!"
Like me, Danielle Leguillou — a stylist and influencer who styled Janis Studios' newest campaign — discovered the brand through Instagram. "I was on my explore page and I saw the bag and it immediately caught my eye," she says. "I love the brand because Janis incorporated her culture and what she loves into her brand and it flows so lovely. Not a lot of brands do that."
There's a lot in store for Janis Studios in the coming months, including a new leopard print Darka bag set to launch online September 6 (if you're in NYC, you can get early access to the spotted style at the Janis Studios pop-up store — Le Salon by Janis Studios at 224 Mulberry Street). The line will continue to introduce new colors, textures, and handles every two to three months and has a few collaborations in the works, too.
I cannot wait to see the new Janis Studios designs unfold — fingers crossed she posts more adorable animals in her bags on Instagram — but I had to know if Munz had any dream girls on her list to wear her bags.
"It's tricky," she says. "Yes, I do dream that Rihanna and Juliette Armanet rock it, but really I dream that everyone, boys and girls, wear the bag. I want to please people, for them to relate to the story, and want to be part of our community."
That's a brand goal I can fully get behind.