6 Cool Brands That Prove You Should Keep An Eye On Istanbul Fashion Week
Backstage at Ani Datukishvili. Photo: Courtesy of Mercedes-Benz Fashion Week Istanbul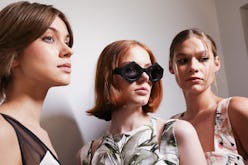 For a young designer in the early stages of brand building, showing at fashion week is a noteworthy feat. But, earning a spot on a major fashion week calendar can be tricky. In New York, new designers like Sandy Laing, Nanushka, and Eckhaus Latta have successfully established themselves, but for emerging brands, fighting for time spots with heavy-hitters is difficult. Which is why smaller satellite fashion weeks abroad — in places like Oslo, Copenhagen, and Tbilisi — have become a breeding ground for undiscovered talent, with Mercedes-Benz Fashion Week Istanbul being the latest international city to present six emerging fashion designers worth knowing about.
The piqued interest in smaller markets allows newer international designers their first platform to distinguish themselves. In these cities, incubators like the International Designer Exchange Programme (IDEP) by Mercedes-Benz, promote up-and-coming talents on the way to international fashion business.
This season, Tbilisi-based designer Ani Datukishvili was awarded this opportunity to show in Istanbul for the first time. "I'm from Georgia, it's a small country and there are a lot of emerging designers," she tells TZR after presenting her fifth collection overall (and first at Istanbul Fashion Week). "This exchange program was really good for me because I had this chance to present my collection to another audience." While it's her dream to show in Paris one day, the young designer says it's an important step for her and her brand to gain more recognition and grow internationally. "It's one step to success," she adds.
With Datukishvili as a top talent to know from Mercedes-Benz Fashion Week Istanbul, an additional five Turkish designers presented strong sartorial visions for the Spring/Summer 2019 season. From a vibrant streetwear label — whose already managed to wardrobe Gigi and Bella Hadid — to a designer's refreshing take on feminine style, get familiar with these talents as part of the next wave of international fashion.
Ani Datukishvili
After studying accessory design at Central Saint Martins in London and women's ready-to-wear at L'institut Marangoni in Paris, Ani Datukishvili founded her eponymous luxury label for women's fashion and accessories in the Georgian capital of Tbilisi in 2016. A distinct mood transpires from the young designer's collections — an off-beat take on femininity that oscillates between irreverent and cheerful — resulting in cool-girl versions of structured tops, floaty dresses, and tailored separates. With silk organza, jacquard weave, and custom-made, embroidered prints as her signature, Datukishvili's moody-minimalist aesthetic is elegantly edgy whether you're for her occasion wear or everyday essentials.
Third
With a crafty-cool aesthetic, Third ­delivers on bright colors, lively prints, and streamlined silhouettes. Founded by designer Tuğçe Özocak in 2014 — who is a graduate of the esteemed Royal Academy of Antwerp — the Istanbul-based brand offers a mix of vacation-ready pieces and sleek, wearable streetwear. Highlights from her Spring/Summer collection include structured checked tops in pastel tones, a fringed ivory knit top and swishy pants ensemble, and a unique hoodie-and-trouser set done in denim that's both sporty and tailored. This line is for the spirited sophisticate with a playful disposition.
SEBNEMGUNAY
A trio of hip hop dancers opened her Spring/Summer 2019 show during Mercedes-Benz Fashion Week Istanbul, but Sebnem Günay is an attention-grabbing designer in her own right. Belgian-born, the emerging talent launched her first womenswear collection for Spring/Summer 2016 after moving to Istanbul to study fashion design at the Istanbul Moda Academy (IMA) at 19 — she also won the Best Design Award during the competition 'Who's Next Fair' in Paris while still in school. With a super-sporty aesthetic, elevated puffer coats and sweat sets done in vivid color blocks and graphic stripes have become her signature with colorful anoraks, biker shorts, and utility vests on deck for SS19. Oh, a couple of in-demand models — aka Gigi and Bella Hadid — have recently been snapped wearing SEBNEMGUNAY.
Mel Özbek
Turkish-born Mel Özbek studied fashion design at Istanbul Fashion Academy before completing a Design Realization program on scholarship at London's Center for Fashion Enterprise. With an expertise in leather – for which she won a prize at the Istanbul contest, Koza Young Fashion Designers — Özbek debuted her first collection for Fall/Winter 2014, primarily made up of ladylike dresses, coats, and skirts in the luxe fabric. Since her inaugural collection, Özbek has delivered on fanciful evening wear in addition to well-crafted leather pieces. For Spring/Summer 2019, an ethereal vibe transcended through sheer and pleated dresses as well as fluid silk tops, skirts, and coats in a range of floral prints and jewel tones.
Tuba Ergin
Educated in the US, Tuba Ergin completed high school in Chicago before taking fashion design courses at the Art Institute of Chicago and receiving a Fashion Design and Marketing diploma from the La Salle Academy in 2000. Before establishing her namesake label and joining the Istanbul Fashion Week calendar in 2013, the designer — whose uniquely rebellious aesthetic revolves around deconstructed suiting, leather separates, and peek-a-book sheer pieces — worked as a consultant for brands including Lacoste and US Polo and created her own denim brand, Garden of Denim Design, or G.O.D.D. Highlights from her Spring/Summer 2019 collection include asymmetrical red suiting, PVC raincoats, and metallic net dresses, which, is proving to be a major spring trend.
Exquise
For feminine pieces that stand out, Exquise lends a fresh perspective. Founded in 2008 by Dilan Güme and designed by creative director, Ebru Atılgan, the brand duo designs for a spontaneous type of woman unabashed by color, print, and whimsy. When shopping this collection, you'll find romantic blouses, skirts, and dresses aplenty, from daytime florals to after-hours glitz. While some pieces skew more eccentric than others, Exquise's designs are truly wearable, from just-quirky-enough cuts to timeless shapes.