The 7 Most Important Trends From Paris Fashion Week Fall 2019
Off-White Fall/Winter 2019. Photo: Courtesy Off-White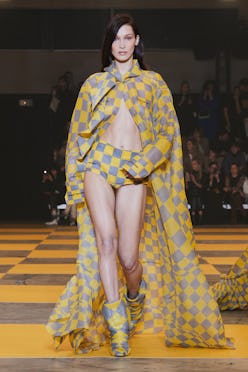 Paris is the grand finale of Fashion Month. It's the city where the industry's biggest players pull out all the stops, presenting hundred-piece collections in the city's grandest halls, and yeah, even a palace or two. If you think the stakes are high, you're correct, because it's in Paris that brands lay the groundwork for the fashions you'll see in the months to come. And, while there were plenty of make-you-gasp-level looks throughout the week (well actually, nine days) of shows, in particular, seven fall 2019 fashion trends stood out at Paris Fashion Week. This select group of styles is the one you'll want to make a note of now, because a few months down the line, they'll not only be around, they'll be totally pervasive.
At their most basic, trends are defined by repetition — if a hemline, hue, or print keeps popping up, there's an implied upward trajectory. But success requires more than volume; runway clothing has to convince the potential buyer to become a future wearer. A sartorial chemistry is needed to sway savvy shoppers. Sometimes, it's the draw of nostalgia — as can be seen with the heavy '80s influences displayed by houses like Louis Vuitton and Balenciaga. But, it could alternatively be the draw of new, new, new, especially with the breakneck speed of attention spans in the age of Instagram.
To become a trend du jour, the second requirement is wearability. A cool-factor won't help a brand's bottom line if it's simply a thin veil of clout. Women wear clothing because it makes them feel something: cool yes, but also comfortable and confident. If a woman doesn't feel good in the first thing she puts on in the morning, it's going on the floor to be replaced by something that offers more emotional fulfillment.
All of this is to say that Paris's top trends manage to successfully wedge their way between these at-times diametrically opposed ideas — they're oozing in the It-factor, but women will buy them because they like the way the clothing looks when they put it on. Learn about all seven below, and prepare to add them to your own wardrobe for the second half of 2019.
Checks Over Stripes
Drake references aside, this season Paris' heavy-hitters and indie designers alike gravitated towards graphic checkerboard printing. Some, like Loewe, managed to still keep looks classic, presenting a neutral-toned blazer and coat both covered in squares. Meanwhile at Off-White, colorful iterations of the print appeared both straight and swirled in a trippy Magic Eye-inspired fashion. Though historically, bold black and white may seem to belong to the punks (or Dior's Teddy Girls who were the inspiration behind the brand's graphic collection), the wide-ranging takes offer more polish than you might imagine.
Long Live The '80s
If you tuned into the livestream of any of this season's biggest shows, odds are you would be treated to the crooning of Prince or the bouncing beats of New Order. But, it wasn't just the soundtracks that leaned heavily on the '80s; runways favored the decade's statement shoulders, short hemlines, and high-gloss finishes. At Alexander McQueen, oversized rosettes appeared on both suiting and dresses, and each look was finished off with edgy accessories. Meanwhile, Louis Vuitton presented graphic designs that referenced the era while still possessing a futuristic twist. Though the days of Reagan may be far behind us, the sartorial drama remains intriguing.
Bundled In Blankets
The blanket dressing trend first appeared in Milan, but managed to make its way to the runways of Paris as well. Grandma-worthy quilting is poised to replace the puffer jacket as the cozy coat du jour. The trend takes a range of forms, from graphic patchwork as seen at Isabel Marant, to silky down pieces stuffed and embroidered in a comforter-like fashion. The bottom line is that you'll more or less be bringing your blanket along when you leave the house next winter.
From The Top Down
In the accessories world, it's more often than not a standout bag shape or spectacular boot that gets all the accolades. But this season designers were devoted to sparking every shopper's desire for a hat. Some skewed ultra-quirky, like Loewe's topper that drew connections to Mickey Mouse ears or a nun's habit, or Nina's Ricci's similarly voluminous hat that looked more like the outfit than an accessory. But none will be quite so buzzy as the bucket hats at Dior that finished off every single look, ball gowns included.
Fit To Print
Fall floral prints were in no short supply this season. But more interesting than the moody-hued daisies and tulips is what they were worn with. Miu Miu balanced out florals with rough-and-tumble camo. Marine Serre brought back her graphic half-moon print in juxtaposition with a large-scale floral motif. Florals alone may not feel all-too-fresh, but styled alongside other eye-catching prints, it feels both exciting and easy to recreate in the months to come.
Tear It Down
Sharp tailoring and luxe neutrals have been stalwart pieces of everyday dressing over the last few seasons, and while you can expect these polished looks to stick around, also expect to see a little reinterpretation. Across every city, brands presented classic silhouettes that they cut up, deconstructed, and pieced together again. One style of particular interest was that of the skirt-dress, interpreted a few different ways at Rokh, Chloé, and Jacquemus. Buttons were left undone, hems were askew, but the pieces still held onto their deftly-tailored beginnings.
Cinched Suiting
Continuing on that ever-popular suiting trend, brands decided to mix things up this season by well, putting a belt on it. A sharply cinched waist at Givenchy felt like the freshest take on the power suit. Meanwhile, much of the fashion industry was abuzz over the equestrian-chic range of clothing offered up as part of Hedi Slimane's second season at Celine. Two-piece suits are here to stay, but come next season, consider freshening up your favorite style by adding on a little additional hardware.