The Biggest Fall Trend From Milan Fashion Week Is *Very* Cozy
Courtesy Moncler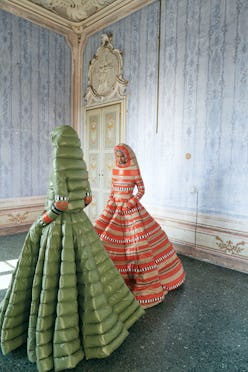 If you've perused a street style story or two over the last few years, you'll know that chunky puffer jackets have been the outerwear of choice for fashion folk. And beyond being certified for below-zero temperatures, there's something appealing about stepping out of the house in something that could easily pass for a blanket. Which is why, unsurprisingly, at Milan Fashion Week Fall/Winter 2019, blanket dressing has become a major runway trend. Once Fall rolls around, expect to dress yourself not only in a sporty down coat, but perhaps in quilted pants or accessorized with an insulated purse too.
On the major runways for the season, brands like Gucci, Prada, and Fendi found ways to chicly embrace the idea of comfort, reimagining classic pieces in ways that all give off decidedly cozy vibes. They're the kind of pieces that you'd ideally wear during a day spent comfortably on your couch, but luckily enough look much fancier than your usual sweats or athleisure pieces. And while the idea of quilting may immediately bring to mind some old and musty heirloom sitting in a relative's home, these looks prove that blankets are actually plenty chic. Below, find everything you know about the way you'll be bundling up six months down the line.
Gucci Fall/Winter 2019
At Gucci, models walked the runway in pants, tops, and even vests that featured quilting details reminiscent of a grandmotherly comforter or even a robe coat. The pieces could be particularly statement-making styled simply, but since maximalism is the Gucci way, consider piling on bright colors and rich textures to complete the look.
Fendi Fall/Winter 2019
For Karl Lagerfeld's final Fendi collection, the designer layered a long quilted shirt over a tonal cropped vest in a rich fuzzy texture. With less volume but playful layering, this look is ideal for the transitional days of October.
Moncler Fall/Winter 2019
Moncler may be known for its practical outerwear, but as part of its Genius program, the brand works with eight designers to create out-of-the-box capsule collections. For his second collaboration, Pierpaolo Piccioli created a stunning collection of down eveningwear with the help of model and designer Liya Kebede. While the colorful pieces may not translate for wearing out to errands, it's impossible to deny the beauty of these colorful designs.
Bottega Veneta Fall/Winter 2019
Bottega Venetta played deftly with color and texture, styling unexpected items — like a quilt-effect silk skirt with a sleek leather top. Since quilted pieces can feel overly boxy or bulky, sticking with streamlined items for the rest of your look can help achieve a sense of balance.
Prada Fall/Winter 2019
At Prada, it wasn't just coats that got the cozy treatment, bags soft enough to double as an emergency pillow made their way onto the runways. For those that regularly carry around a laptop or even their lunch, this style is especially practical.
Emporio Armani Fall/Winter 2019
Though sporty down jackets continue to be a street style favorite, a more luxe alternative made an appearance at Emporio Armani. The brand sent a dress, jacket, and coat all down the runway in a blanket-like brocade fabric that while clearly comfortable also looks polished — evening blanket-wear, if you will.
In the vein of more classic puffer styles, Tod's debuted an insulated leather vest on the runway which the brand paired with a coordinated button-down top in the same forest hue. For those that write a vest off as impractical (who wants cold arms?), this leather on leather styling will manage to keep you cozy even on chiller days.