The Jennifer Lopez-Approved Smoky Eye Look To Copy For Fall
VALERIE MACON/AFP/Getty Images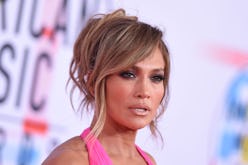 Summer saw no shortage of creativity in the eye makeup department, from tie dye and floral-painted lids to abstract liner art. The introduction of face masks reinforced the importance of look-at-me peepers, triggering daring trends that will doubtless translate into dramatic smoulder come fall. Now, six smoky eye ideas to get the inspiration flowing.
The ubiquitous technique is said to have officially originated from the Gucci runway in the '90s, but a look at ancient Egypt will prove that smoky eye makeup is literally one of the oldest beauty tricks in the book. Old photos of famous flappers like Josephine Baker depict thick black liner smudged and blended outwardly — these were the days of making eyeshadow out of petroleum jelly and actual charcoal. Today, the word "smoky" is more of a genre than one specific look.
In 2020 — since quarantine tutorial binging has resulted in van Gogh-level virtuosity — the sooty eye category is practically infinite. They vary now in shape (rounded, winged, or all the way to the brow?) and color (metallics and neons in addition to your average black and browns). Sometimes they even incorporate fun shapes and geometric liner, too.
Ahead, six on-season smoky eye looks courtesy of Jennifer Lopez, Kim Kardashian, Sophie Turner, and more.