This Gluten-Free Trader Joe's Dessert Will Be A Hit At Your Next Dinner Party
Trader Joe's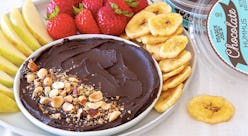 There are literally about a million reasons to love doing your regular shopping at cult-favorite grocer Trader Joes — from the surprisingly great bath and beauty products to the pre-made meals that make dinner a cinch on those days when you just can't even. That said, of course, the chain has a ton of great options to offer when it comes to satisfying your sweet tooth. Besides snacks and treats you're probably already picking up to fulfill your personal cravings (hello, dark chocolate almond butter cups!) there are more than a few easy Trader Joe's desserts that are so tasty and impressive, they're totally worthy of serving at your next dinner party. And besides that, they'll save you a ton of time.
As TJ's diehards know, it's always a fun surprise to see what new products your local store has to offer, from frozen treats that are perfect summer eating to the plethora of holiday cookies. Checking out the latest drops is practically a year-round form of entertainment for grocery enthusiasts. Dessert-wise, there's always a lot to choose from, but if you're looking for something that's simple to whip up — whether you're catering a party of one (yourself, obviously) or cooking for a crowd — some edge out others.
Ahead find, six of Trader Joe's best dessert ideas to serve now if you're short on time but still want the wow factor — and practically all you've got to do is plate them. Oh, and don't worry, there's a few healthy options for some of your gluten-free/dairy-free friends in there as well.
Light Ice Cream
Those hoping for TJ's answer to the high-protein, lower calorie ice cream trend (ahem, Halo Top) need wait no longer. The store recently released two flavors — Joe-Joe's Cookies & Cream Light Ice Cream and Chocolate Peanut Butter — for those looking to indulge with a tad less guilt.
Chocolate Hummus
Dessert hummus? You're not the only one to be wary of this buzzed about new product, but before you dismiss it, just know that this combo of (yes) chickpeas, tahini, cane sugar, and cocoa is sweet, not savory (no garlic and herbs) and has a fudge-y texture texture that makes it the perfect vehicle for sliced apples, strawberries, banana chips, or pretzels. And your dairy-free and gluten-free friends can free free to indulge.
Strawberry Greek Yogurt Parfait Bars
This essential summer dessert might not be around much longer, so be sure to snag these frozen yogurt parfait bars while it's still nice enough to enjoy them al fresco after dinner.
Fudgey Chocolate Quinoa Loaf & Cake
All you need to add are the eggs and oil to whip up this gluten-free cake or loaf. Make it extra fancy by using mini bundt cake molds and serve warm with a scoop of vanilla ice cream on top for maximum impact.
Sweet Bites
TJ's take on French petits fours comes with three different flavors, so it's perfect for a platter where guests can graze and try them all without feeling like they're overdoing it.
Green Tea Mochi
If you're someone who regularly makes trips to Trader Joe's, you might have noticed their old favorite frozen mochi bites missing in action. Well, they're back and better than ever, with the a chewy rice dough exterior and creamy ice cream center, but this time no high fructose corn syrup, artificial flavors, or synthetic colors.
Dark Chocolate Covered Bananas
Truth be told, TJ's Gone Bananas — dark chocolate covered frozen banana slices — are kind of a freezer essential for quick snacking in warm weather. But, you can also dress them up for guests easily (and healthily) with a drizzle of nut butter and light sprinkling of shredded coconut. It's the ultimate tropical dessert with hardly any effort.