The Trader Joe's Holiday Cookie That's A Guaranteed Crowd-Pleaser
@traderjoes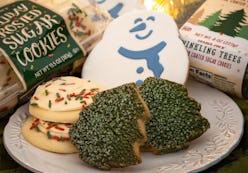 Arguably, one of the best parts about the holiday season is having a solid excuse to indulge your sweet tooth (that is, if you even needed an excuse). After all, what else are you supposed to do with all those festive treats you're bound to receive this time of year? And while homemade goods are hard to beat, Trader Joe's holiday cookies are a go-to favorite whether you're looking for something to bring to your next get-together or simply enjoy with a cup of hot cocoa in the privacy of your own home.
The beloved grocery store offers perfect gifts for everyone, including the beauty buffs on your list, the recipient at your White Elephant party, and all the guests at your annual holiday potluck dinner — but its cookie selection isn't to be overlooked as festive favorite. Every holiday season, TJ's brings back both old and new favorites that people literally anticipate and look forward to all year. And, if there's a trendy new flavor or dessert on the market, you better believe there will be a Trader Joe's spin on it.
From a seasonal twist on the classic Joe-Joes to the tins of internationally inspired sweets, there's a cookie to meet practically everyone's holiday needs and desires. Ahead, find a few to try this year — but remember every Trader Joe's has differentiating stock, so head to yours with an open mind.
Holiday Frosted Sugar Cookies
The healthy snacks can wait until after the holidays. Go for full sugar overload with these frosted cookies complete with red and green sprinkles and feel the holiday spirit.
Multi-Flavor Joe-Joe's
If you love TJ's classic sandwich cookie year-round, you'll definitely want to pick up this gift-ready assortment pack, with double chocolate, Peppermint, peanut butter and vanilla ginger options inside.
Ugly Sweater Cookie Kit
For a fun, DIY approach, snag one of these cookie kits that lets you decorate your very own edible ugly sweaters. With options of sweater vests, turtleneck sweaters, crew-neck sweaters, button-down sweaters, and Hawaiian shirts to dress up with red, green, and white icing, this also makes a great interactive activity for any parties you're planning.
Maple Leaf Cookies
These maple-infused sandwich cookies are so good, Trader Joe's now stocks them all year long, but they're particularly great during the holidays to give you that cozy-cabin-in-Vermont vibe.
Soft Baked Snickerdoodles
Like the maple cookies, these Snickerdoodles can be found on shelves before, during, and after the holidays, but given their cinnamon-y flavor, they just make sense to enjoy this time of year (perhaps alongside a glass of spiked cider or mulled wine).
Gingerbread Crisps
Though technically a cookie, this thinly sliced gingerbread crisp is also a perfect addition to your cheese plate. Sweet and slightly spicy (from the candied ginger) on their own, they're also a great vehicle for creamy brie, dips, preserves, and other festive toppings.
Dark Chocolate Stars
Try not to polish off an entire box of these dark-chocolate-covered, star-shaped shortbread cookies that make a perfect addition to any secular holiday celebration.
Gluten Free Salted Toffee Cookies
TJ's isn't leaving the gluten intolerant out of its holiday cookie offerings. These crispy, caramel-y treats will even impress the gluten enthusiasts in your group.
Cookies, Wafers, & Florentines...Oh My!
Not sure what cookies to bring to a holiday party? This assortment packs in three kinds of butter-based biscuits: chocolate-dipped Florentines, Belgian waffle cookies, and both almond and cinnamon-cocoa wafers. That should cover all the bases.
Belgian Cookie Selection
This red tin is filled with 12 varieties of cookies covered, dipped, or drizzled with Belgian chocolate, so it makes an idea gift for the chocoholics in your life.
Danish Butter Cookie Tin
These buttery, crumbly Danish cookies are a holiday classic they happen to pair perfectly with a post-dinner cup of coffee or tea.
Dutch Stroopwafel Tin
If you've never known the joys of Dutch Stroopwafel cookies, let the holidays mark the occasion to finally try them. They consist of two thin, slightly chewy waffle cookies joined together with gooey caramel. Better buy these in bulk (this tin is the perfect size), because they're going to be gobbled up quickly.