6 CND Nail Polish Colors That Always Sell Out – & Always Stay On
CND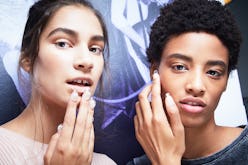 Have you ever gotten acrylic nails? Or maybe a long-lasting gel manicure? Well, you have nail care brand CND to thank for that. The company is one of the most innovative in the industry — hence the name, Creative Nail Design — and has been since its launch in 1979. This year, CND celebrates 40 years of moving manis forward by looking back on its most iconic moments — including creating Pucci-print nails for the runway, pioneering nail art as we know it, and formulating the six CND nail polish colors that always sell out.
"In 1980, nail polish formulas hadn't changed in over 50 years, since Charles Revson, the founder of Revlon, invented it in 1932," Jan Arnold, the founder of CND, tells The Zoe Report. "It was a great invention for its day, but an increasingly busy lifestyle placed more stress on the nails of the modern woman, who wanted more power behind her polish." Arnold saw this shift happening and wanted to close the gap between what women needed and what was currently available to them — and thus, CND's SolarNail, the first liquid and powder system of acrylics, was born. "This forever changed the future of the nail industry," Arnold says… and she's not wrong. So why stop there?
"By introducing nail color and embellishment to the fashion industry through New York Fashion Week in 1995, CND paved the way for change in the professional nail industry, where nail polish evolved into an art medium," the founder shares. Over the course of the company's history, CND artists have created custom nails for brands like Libertine, Manish Arora, Mary Katranzou, and Pucci.
As if giving the world acrylics and nail art wasn't enough, CND went on introduce the concept of the gel mani in 2010, with its Shellac Power Polish. "This was the official highlight moment that revolutionized the nail industry," Arnold remembers. "This allowed for polish to be worn like a gel, for 14+ days, and come off in less than 10 minutes, with no nail damage." Basically, busy women everywhere owe their perfect, chip-free nails to CND.
Over the years, the brand has become known for its must-have polish shades, too. "CND's best-selling shades are Cream Puff, a clean, cool, full coverage opaque white; Wildfire, a true bright neutral red; and Romantique, a semi-sheer lovely neutral pale pink," Arnold tells TZR. Meghan Markle (you know, the Duchess of Sussex) is reportedly a fan of Dark Dahlia, a deep purple polish that verges on black.
Some might say an endorsement from the Duchess is pretty much the pinnacle of success — but for CND, that's no excuse to rest. 2019 is set to be one of its busiest years yet, with a retrospective art show of its work entitled "Tiny Canvas" on exhibit at the Oceanside Museum of Art in Oceanside, California on the horizon, and a year-long partnership with Swarovski well underway.
"We are very excited to partner with Johnson Hartig at Libertine for our spring and summer 2020 color collections," Arnold adds — so keep an eye out for that forthcoming collab. "Johnson is a dream partner. He says, 'Nails are a beige platform yearning for adornment,' and we couldn't agree more."
Ahead, adorn your nails with a nod to the best in the business by rocking these six best-selling CND polishes.
Shop CND