This One Shade Of Red Nail Polish Works On Every Skin Tone
S. Alemdar/Getty Images Entertainment/Getty Images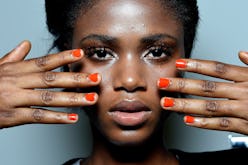 Valentine's Day is quickly approaching, and in my opinion, it's the best holiday for a festive manicure. Why? Because what looks like a themed mani on V Day feels low-key classic by the 15th, thanks to everybody's favorite standby shade: red. The most recent releases from nail care brands like Essie, J.Hannah, and Smith & Cult offer a diverse range of red nail polish for every skin tone, just in time to pull off the perfect holiday-meets-everyday mani.
"Red nails are a timeless classic, and red polish is something that I believe every woman should have," Mazz Hanna, a celebrity manicurist who works with Julia Roberts and Constance Wu, tells The Zoe Report. "But with so many different shades of red out there, it can be overwhelming to choose which one to buy." The nail artist suggests swatching shades on your nails before purchasing, in order to see what colors really pop against your skin tone — but if you're more into online shopping, don't worry. The Zoe Report touched base with five professionals in the nail space, from celebrity nail artists to polish entrepreneurs, to put together a no-fail guide to finding your perfect shade.
"For fair skin, we would recommend using a blue-based red," Molly Romah, the lead nail tech at Chillhouse in New York City, and Gabi Meit, the salon's nail event manager, tell The Zoe Report. They suggest Deborah Lippmann's Respect or CND Vinylux in Wildfire; thanks to the cool blue undertones, both will shine against a pale complexion.
"Medium and caramel skin tones look great in a deep blood red," Hanna says. "Oribe Bloodstone is my absolute favorite for medium skin tones — it's super rich and shiny, and their flat brush makes it easy to apply." According to the Romah and Meit, orange-based reds also work well with medium tones. To test out the orange theory, try a coat of Deborah Lippmann Footloose or Jin Soon Crush.
If your skin falls within the dark or deep range, Hanna loves the look of a classic, candy apple red. "One of my favorite classic red polishes of all time is Rouge by Christian Louboutin," she shares. "It's definitely a splurge at $50 a bottle, but it lasts quite a while and makes you feel super fancy — and it looks amazing against dark-deep skin."
That being said... With words like "flattering" slowly being removed from modern vocabulary — the thought being, who cares if it's flattering as long as you like it? — the discussion of which shades look best with which skin tones maybe isn't as necessary as it once was. "I don't think that there are any rules, or dos and don'ts, the 'best shade' has more to do with personal choice," Jess Hannah, the founder of J. Hannah, tells The Zoe Report. She believes in talking a more laid-back approach to tone and saturation, and says the brand's polishes (particularly Ghost Ranch, its version of red) "take on a different look with every skin color, each of them a beautiful compliment." The moral of the story? Pick a shade that you love — regardless of whether it's "flattering" or not.
So, how to find a red that sparks joy? Hanna has the perfect hack. "The most efficient way to go about this is to head to your local department store," she tells TZR. "You can bounce from counter to counter trying out a different shade of red on each nail. In the end you're left with a totally rad monochromatic mani and are ready to make an informed purchase decision." (And with that, my weekend plans are set.)
One you find a crimson that calls to you, it's all about perfecting your at-home mani technique. "Red is very messy and stains easily, so make sure you always use a base coat first," Romah and Meit say. Keep the color slightly removed from the cuticle — it'll look cleaner — and go slowly.
"Polish the the tip only with red polish, then immediately start from the cuticle down," Gina Edwards, a celebrity manicurist who works with Tiffany Haddish and Gisele Bundchen, tells The Zoe Report. "Basically, you are reversing the application from free edge to cuticle instead of from cuticle to free edge; this process helps prevent peeling." Literally, genius.
Ahead, the 12 red polishes — both brand-new and forever faves — the pros swear by for Valentine's Day and beyond.
Shop Red Nail Polish