The Celebrity-Approved DIY Beauty Treatments You Can Recreate With A Few Pantry Staples
Karwai Tang/Getty Images Entertainment/Getty Images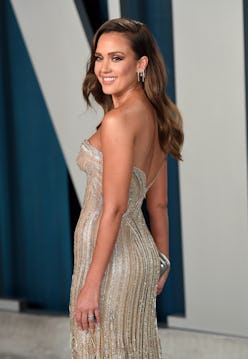 At this stage in quarantine, your kitchen is probably a shapeshifter: It's been used as an office, a place to spread out puzzles, and where you make your Instagram-able sourdough. And now, it's about to be where you concoct celebrity DIY beauty treatments. Because, if you want shiny hair like Kourtney Kardashian or soft lips like Priyanka Chopra, it's as easy as pulling a few ingredients out of your cabinets.
Which is kind of a saving grace right now. Whipping up a beauty treatment in your home means you can make it whenever you want (or need) while keeping your spending at a minimum. Yes, minimum, because even though these are celebrity DIY treatments, they won't cost you much. Read: an avocado here, lemon there, and maybe a few bags of green tea. And if the simple ingredients are good enough for celebrities like Jessica Alba and Halle Berry, then it's definitely worth a shot. Whether you're looking to rewind and relax your day away, like with January Jones' homemade detox bath, or simply give your tresses some added moisture with a hair mask, there's a DIY for all.
Below, six different celeb-approved DIY beauty treatments with their ingredient list and instructions so you can recreate it, no problem.