5 Stunning Wedding Dresses Inspired By Grace Kelly's Iconic Look
Archive Photos / Stringer / Getty Images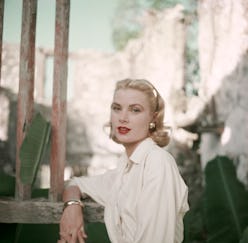 Modern day royals like Meghan Markle and Kate Middleton serve as wedding inspiration for so many brides-to-be, but princesses of the past laid the groundwork, influencing bridal gowns for centuries to come. Grace Kelly's wedding dress still serves as one of the most memorable gowns of all time, and is regarded by many as the epitome of romantic elegance more than 60 years after its royal debut.
Upon marrying Prince Rainier of Monaco, the American actor and style icon made her foray into royalty with the breathtaking ensemble, which was a gift from MGM studios. Designed by award-winning costume designer Helen Rose, the elegant silhouette showcased impressive intricacy and attention to detail. From its 90-yard lace-adorned veil to its the antique pearl-encrusted Brussels lace bodice, each piece was crafted with master-level care. The voluminous, ruffled peau de soie skirt included multiple petticoats laid underneath for optimal support and a stunning shape stylish brides still emulate today.
Fashion lovers aren't the only ones drawing inspiration from the iconic outfit, though. In fact, fellow royal Kate Middleton donned a dress which bore a striking resemblance to the iconic gown during her wedding to Prince William, Duke of Cambridge. Kelly, a Philadelphia native, gifted the iconic ensemble to the Philadelphia Museum of Art, where it has become "one of the collection's most popular and beloved objects."
Even though the gown reportedly took 30 seamstresses and 100 yards of silk to complete, channeling the princess doesn't have to be such an intense undertaking. To commemorate the legendary bridal fashion moment, The Zoe Report rounded up similar styles that serve the same romantic charm, the 2019 way. Ahead, feast your eyes on the princess-approved gowns that are equal parts stunning and timeless.
Shop The Look