This Adorable — And Sustainable — Gift Wrap Idea Will Cost You Nothing
YummyFeast/Shutterstock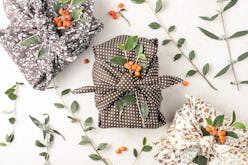 Giving is undeniably one of the best parts of the holiday seasons — but there are certainly a few aspects that can also make it feel stressful. For one, not everyone is so easy to shop for. And then there's the pressure to get them all done — and the goods delivered — on time. There's also the presentation to consider, and while some take pride in their pristine wrapping skills, others might find the process tedious or just believe they lack the talent of being crafty altogether. But it doesn't have to be that way: There are actually some seriously unique gift wrapping ideas that will not only impress everyone on your list this year, but are actually so easy that you might just enjoy the task for once.
In an age where so much shopping is done digitally and gift cards are many people's go-to, gift wrapping could be considered a lost art. It takes time, effort, and sometimes more cash than you'd like to spend getting the wrapping paper, bows, tags, and other accoutrements. Not to mention, it can all be pretty darn wasteful. But with the right tips and a little imagination, this doesn't have to be the case. In fact, you might not even need to spend a single dollar to make your gift a total standout. As proof, some of Los Angeles-based interior and event stylist Abby Pendergrast's favorite ways to wrap this year involve things you might already have lying around — plus they can be reused over and over (truly the gift wrap that keeps on giving).
So, no more putting off your wrapping duties. Read ahead for Pendergrast's five tips for creative — and sustainable — gift wrap ideas. Then pour yourself a glass of mulled wine, put on some holiday music, and get crafting.
Substitute Paper Wrapping For Fabric
"I got a gift last year from my friend that was gorgeously wrapped in a silk scarf and immediately went into a deep dive of furoshiki (a Japanese fabric wrapping style)," Pendergrast says to The Zoe Report. "This is perfect because it is less wasteful and the wrap can be used to adorn your neck or favorite handbag, or reused on the next gift!" Such scarves are actually easy and affordable to find in a thrift shop, but you can also use any excess fabric you've got lying around.
Get Creative With Household Items
Give yourself the challenge of transforming items you've already got lying around, like twine, clothespins, buttons, and one of Pendergrast's current favorites, paper straws (bonus points for the ones that are striped like candy canes). "Since I love to throw a party and simultaneously live in the paper straw capital of the world (California), I keep straws stocked in my pantry," she explains. "This DIY is super cute as an addition to your everyday brown paper." A Pinterest-approved way to use them is by crafting them into a snowflake shape and using the shape in lieu of a bow.
Using Dried Flowers Or Herbs Instead Of Bows
"We're seeing dried flowers everywhere this year, from home decor to weddings and everything in between," Pendergrast says. "It makes such a cute accent and mini wreaths also serve as festive yet chic decor year round!" A bundle of fresh or dried herbs can also be used in the same way for a fragrant addition.
Write Directly On The Wrapping
Skip the gift tags altogether and write your loved one a message directly on the gift. Pendergrast advises brown craft paper and calligraphy-inspired text for a sophisticated effect, but the most important thing to consider here is pretty penmanship.
Brown Bag Your Gifts
Even the most basic brown paper bag can be easily transformed, according to Pendergrast. "Wrap cute homemade cookies or small gifts like a candle in simple and affordable brown paper lunch bags and adorn with winter foliage and simple twine or ribbon for an easy and festive vibe," she suggests.