It's Dinner-Party Season — & These Floral Arrangements Are The Perfect Way To Elevate Your Table
Courtesy of Popup Florist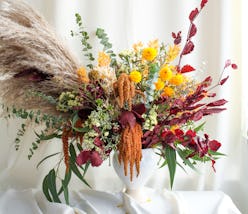 There's no better time to let your drama flag fly than at a dinner party. It's an opportunity to swap plain white plates for complicated place settings, stock your bar cart with intricate glassware, and just go over the top with decorations in general. But arguably the best part is indulging in beautiful, statement-making floral arrangements for your autumnal dinner table that make you look like a professional host with effortless styling skills in spades.
The only difficulty, honestly, is deciding what kind of flowers to display. There are basically endless combinations and color schemes, so begin by deciding on your desired *vibe.* For the ultimate Instagrammable soirée, cover your table in pastel blooms made fall-appropriate with cozy textures. Or, go the classic route with a monochromatic centerpiece made of warm, velvety flowers. And if your style falls somewhere in between, opt for a mixture — trendy florals paired with old standbys always make for a fresh combination. Just remember that creativity is key — you don't have to go the obvious route to infuse an autumnal feel into a bouquet.
Keep scrolling for seven different floral arrangement ideas from the pros. If you didn't already have a fall dinner party planned, these might just inspire you to start sending out invitations.
Toffee-Colored Blooms
For Ryan Norville, the founder of floral company Oat Cinnamon, fall arrangements are all about choosing a color scheme that feels seasonal, but unexpected. "Beige, warm and spicy 'cinnamon' tones are a core part of our brand year-round, hence the name of the company, so finding new ways to incorporate them each season is the creative challenge and inspiration for me," she tells The Zoe Report in an email. "I think the best way to create a fall arrangement at home is to really embrace the colors of the season in unexpected ways. While brown usually indicates dying leaves, toffee-colored blooms in gradient palettes look so stunning."
Mini Citrus-Hued Arrangements
Your dinner-party arrangements don't have to be big to be eye-catching. If a large one overwhelms your space (or just makes it impossible to see people across the table), opt for a small bouquet with one or two bright hues. A cute mini vase will only add to the charm.
Bright-But-Cozy Shades
To create a bouquet that feels both warm and bright, take notes from Liza Myachina, the founder of Flowers Bar STHLM, and contrast bright colors, like vivid oranges and reds, with cozy textures like the dry and preserved flowers featured in this creation.
Classic Berry Hues
Classic colors and florals can make just as much of a statement as less traditional bouquets, and this (almost) monochromatic arrangement by Poho Flowers is proof. Skip the big vase and let dark, velvety florals take center stage — with a pop of another color mixed in, you'll have an unexpected, romantic centerpiece that's sure to impress.
Pretty Pastels
For a centerpiece worthy of Instagram, ignore all conventions like East Olivia's founder Kelsea Gaynor did in this pastel-filled creation. Inspired by NYC designer Samantha Pleet, this arrangement manages to be light and whimsical by without being too summery by bringing together the pastel colors and cozy textures of many of Pleet's pieces — and serves as a reminder that floral inspiration can come from anywhere.
To create a similar one for your table, Gaynor recommends foraging in your surrounding area: "Naturally dried foliage can be the perfect base for an all leaf based arrangement or mix with some muted blooms from your local grocery store or bodega!" she explains in an email to TZR.
Oversized Dried Flowers
Dried florals can take on many forms, as Kelsie Hayes, Popup Florist's founder, proves with this statement centerpiece. "We created this dramatic dried arrangement with a base of neutrals infused with burgundies and yellows," she tells TZR. And not only do they provide a seasonal feel to a bouquet, they're also incredibly versatile. "With dried florals, they're all preserved so you can switch the look out seasonally. For example, [in] this particular arrangement you could remove the yellow and have it displayed through the holiday season."
Minimal (But Bright) Blooms
If you're working with one type of flower, a great way to keep them from looking one-dimensional is by letting them take their own shape. "When I'm building a minimal design I love to focus on using one or two ingredients that I can find in my yard, creating pleasing shapes by using a pin frog to hold them steady in one of my favorite vintage vessels," founder of Ponderosa & Thyme founder Katie Davis tells TZR over email. "I like to allow the time I'm creating to be very meditative, often focusing on the way the flowers naturally like to move in my hand, and then try to re-create that movement in a harmonious way in the vase."