This Simple Red-Carpet Beauty Trick Kept Rachel Brosnahan's Skin *So* Glowy At The Emmy Awards
Emma McIntyre/Getty Images Entertainment/Getty Images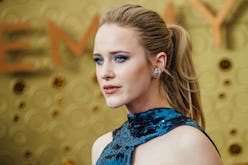 As long as there's been red carpets to watch, there have been red-carpet beauty tricks to review after. Consider the fact that behind almost every single look is a laundry list of industry professionals making sure that each star will flawlessly float through the red-carpet experience, awards show, and any post-show parties that evening. This means tapping into any makeup or skincare tricks a makeup artist has kept up their sleeves — whether it be the secret to applying TV-ready lashes or the invisible skincare hacks that'll keep a star hydrated throughout the night.
Fortunately for beauty fans, the 2019 Emmy Awards offered up plenty of jaw-dropping red-carpet looks and insider intel you can add to your very own repertoire. Makeup artists' tricks were revealed as the night wore on Sept. 22 — although some went ahead and spilled the details for awaiting fans on Instagram. (Here's looking at Rachel Brosnahan's Makeup Artist, Lisa Aharon, who shared the star's pre-Emmys skincare routine on her IG.)
Nevertheless, there is one thing each of the beauty hacks had in common: They're all so easy that you can begin incorporating them into your routine ASAP. Below, five clever beauty tricks straight from the 2019 Emmys red carpet every makeup fan should know.
1. Dampen Your Beautyblender With Skin Care
When building up the base of Naomi Watts' 2019 Emmys look, Chanel Makeup Artist Kate Lee swapped out water for extra skin care. "For a perfect complexion, I damped a beauty blender in Chanel Hydra Beauty Essence Mist and applied Chanel Ultra Le Teint Velvet in 30 where needed," explains an interview quote from Lee in a press email.
2. Or Forgo Water Entirely
Rachel Brosnahan's Makeup Artist, Lisa Aharon, revealed on Instagram a facial cleanser hack to try this winter: "Rachel has sensitive skin so to cleanse it without irritation, I used Cetaphil Gentle Skin Cleanser without water and tissued it off for amazing hydration," wrote Aharon. (Even better? That celebrity-approved cleanser retails for under $10.)
3. Layer Up Your Lip Color
Shopping around for the exact lipsticks spotted on the red carpet? It may be harder than you think this year. Multiple makeup artists created their dream colors through layering unique lip products; makeup artist Kelsey Deenihan crafted Nathalie Emmanuel's stunning red lip by layering two Chanel Beauty Rouge Allure Ink shades — "True Red" and "Rouge Noir" — while Joey King's Makeup Artist, A​llan Avendano, created a Hepburn-inspired lip for the actor by swiping on Urban Decay's Hi-Fi Shine Lip Gloss in "Rapture" over the brand's lipstick in "Sheer Liar."
4. Customize Your Highlight
To create Halsey's rosy, dress-complementing glow, Makeup Artist Denika Bedrossian turned to a surprising product — NYX Professional Makeup's Modern Dreamer Shadow Palette. Bedrossian topped off the brand's Born To Glow Liquid Illuminator (in the shade "Sunbeam") with shadow 25 from the giant palette: a dusty pink shimmer that tinted the highlight just right and boosted its shine.
5. Invest In This Under-$10 Lash Hero
It was no surprise that Taraji P. Henson's custom glitter KISS Lashes — applied by Makeup Artist Ashunta Sheriff — were utterly amazing. However, they also revealed a super simple trick any falsie fan needs to keep on hand: black lash glue. Sheriff used KISS Lash Couture Strip Lash Adhesive in "Black" (which is currently on sale at Ulta for just $4.19) to make sure that the base of the lashes seamlessly blended into the actor's black eyeliner.