Here's How These Celebs Prepped Their Skin For The Emmy Awards This Year
Frazer Harrison/Getty Images Entertainment/Getty Images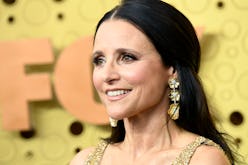 Every beauty enthusiast knows that behind a great makeup look is an even better skincare routine — and no one understands that better than a celebrity. Because when you have to regularly get a full face of makeup so that you can get photographed over and over and accept awards while millions of people are watching, you know how important it is to have a good base as the foundation of your look. Which means that the beauty treatments celebs get to prepare for awards shows often involve exceptionally in-depth routines, unexpected tricks, and luxurious facials. And you can bet this season was no different.
Of course, no awards show prep would be complete without a face-mask selfie, and Julia Louis-Drefus delivered with one of her covered in some of Skyn ICELAND's best. And though not everyone delivered an Instagrammable moment, celebs (and their hard-working makeup artists) definitely went above and beyond on skin care for the event. However, many of their treatments are surprisingly easy to recreate at home, and considering how beautiful the looks were that followed these routines, you'll probably want to recreate them ASAP. Which you can do, because The Zoe Report has broken down a few just for you.
Ahead, a few treatments and skincare routines for you to try to create the perfect base for your next night-out makeup look.