5 Paris Fashion Week Nail Trends To Try — Including, Yes, French Manis
Imaxtree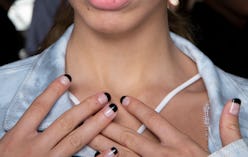 Like most beauty trends, the rise and fall of nail art has been pretty well documented. After peaking in about 2012, when you couldn't walk backstage at a fashion show without seeing nail artists furiously sketching and painting intricate designs, the need to be ostentatious is suddenly quieting. Nude nails seem to be the standard backstage from New York to Paris, with baby pinks hues and nails topped with just top coat made appearances at show after show. But it looks like color is finally making a comeback, courtesy of the Paris Fashion Week Spring/Summer 2020 nail looks. Designers sent models down the runway donning polish hues and colorful nail art that haven't been seen in many seasons.
Read more: Negative Space Manicures For Spring Are So Trendy & Just As Easy To DIY
At shows like Courreges and Andreas Kronthaler for Vivienne Westwood, long, talon-like nails were outfitted with colorful curves and bright, beautiful flowers. And at Guy Laroche, an unexpected shade for spring took center stage, proving that everything you knew about seasonal colors can be tossed out the window.
Call it a comeback, folks — and then call your manicurist afterwards. Ahead, you'll find the best nail art looks spotted backstage at Paris fashion week. Your nails are about to be very happy.
Orange & Black
Spooky season is just about the corner, but at Courreges Spring/Summer 2020, the black and orange nail art was more chic than trick-or-treat. It was a take on two fan-favorite nail art trends — the French manicure and negative space. Nail artists painted a swoop of orange across the tips, left a little curve in middle completely clear, and then filled in the rest with jet black. Sure, they're typical Halloween colors. But with this specific nail art design, this creepy color combination was one of our favorites of the week.
Blue & Chartreuse
Two bright hues are better than one, which is why this blue and chartreuse color combo was such a hit backstage at Courreges, too. Nail artists used the same technique as with the orange and black, with a little negative space breaking up the blue swoop and the light green. It's a high-impact color combination that is perfect for spring.
Wine-Stained
While wine-hued nails are usually reserved for fall, Guy Laroche sent them down the runway for Spring/Summer 2020. The darker hue played gorgeously with terracotta smokey eye, giving a little end-of-year glamour to the warmer seasons. Nails were kept short and rounded, as darker shades tend to look better on nails that aren't talon-length. Who said that darker hues were only for the cooler months?
Black & Cream
Another show where there was an interesting take on the French manicure was Koche Spring/Summer 2020. Instead of the typical thick, white, Carmella Soprano-esque tips, nail artist opted for a streak of jet black. Paired with the baby pink of the rest of the nail, it created a stark contrast that was chic, but incredibly easy to pull off at home.
Painterly Splashes
For the true nail art obsessives, Andreas Kronthaler for Vivienne Westwood has the look that will make your hair go pitter-patter. Clear nails were decorated with swipes of light blue, but the tips were kept bare. They were then decorated with swipes of bright shades, glitter, and little floral designs. It was kitchen sink nail art, in that everything was fair game, no matter how extra.