Sorry, Line Designs — French Manicures Are Officially Back In Style
Courtesy of Essie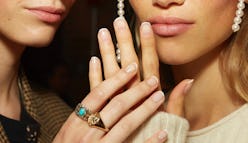 I've got a few fashion month seasons under my belt, and I can tell you firsthand that surprises are abundant — like backstage celebrity sightings (hey, Luka Sabbat) and 35 dye jobs in one day (here's to you, Marc Jacobs). But the trend that's got my group chat buzzing is one that actually peaked circa 1990 — and one that spurned plenty of memes in the late aughts. French manicures are in style for 2019 and onward, according to fashion's top nail artists, and the new innovative spins might put your favorite line designs to shame.
"We've seen a French manicure — we all have nightmares from the nineties," Betina Goldstein, lead manicurist for Essie (at Khaite Spring/Summer 2020), tells TZR on Sept. 7. "You have the massive line. It's square, big, and bulky." So, to avoid the unwelcome nostalgia, Goldstein found a chic way to reinvent it. "I wanted to do something romantic but a little bit modernized. It's not going to be like your typical French manicure where it goes across the entire free edge. It's going to be super dainty, a little fine line that goes around the top of the nail. It's really fresh, but everybody can do it. It's not going to distract from the outfits, but complement them."
The secret lies within Goldstein's artistry, of course (have you seen her Instagram?), and her tools. "I have this thin brush — a really long one helps," she says. "Just run it through and curve it over." A sheer base also keeps the look fresh rather than dated — courtesy of Mademoiselle, a baby pink Essie shade that "goes with all the skin tones," Goldstein says — when topped off with the classic Blanc.
At Christian Siriano Spring/Summer 2020, Julie Kandalec for Essie crafted a "textured painterly French mani" to go along with the watercolor-hued eyes and graphic prints from the collection. "It's very futuristic," she describes. "It's pop art with color and very on-trend, yet wearable, which is something important for him."
To prevent overlap, she likes to let the tip dry longer and applies one coat of tip polish and one coat of glitter, respectively, to keep the layers separate. "I kind of work backwards and pull on the brush while painting, or dot [the color] on," she notes. Also, "make sure that the brush is really stiff," she adds. If it's fluffy or too wide, you won't get the precise line that you desire.
And finally, all six of Rag & Bone's Spring/Summer 2020 nail looks were "easy, effortless, fun, and functional," according to Jin Soon Choi for JINSoon, who relied on a palette of neutrals and a little bit of glitter to complement the latest collection. She created the "capped" look first using Nostalgia, a universally flattering pinkish beige, and created a curved line with Absolute Black. A wide French tip, she says, "can be outdated. We tried to show a cool version of [the classic]. Everyone loves natural color. Instead of a white line, we decided to do black."