This Runway Makeup Look Is Perfect For The Holiday Season
Vittorio Zunino Celotto/Getty Images Entertainment/Getty Images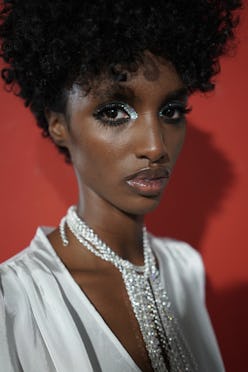 I typically hate it when people start talking about holidays in advance, especially when other monumental occasions haven't passed yet — but December will be here before we even realize. Fires will crackle, stockings will hang, and glitter makeup looks will dominate your newsfeeds, just like every other year. But at Lutz Huelle Spring/Summer 2020 on Sept. 27, the artists dreamed up a shimmery look that's way cooler than your typical red, green, and gold combination.
Designer Lutz Huelle actually took inspiration from Paris itself — a place that always feels as exciting as a winter holiday. "I came back from holidays recently feeling like this place is actually amazing," he told Vogue. "It feels like a sanctuary, especially considering what else is going on in the world." His exciting play on textures — with sequins and feathers galore — was the perfect backdrop for the can't-possibly-miss glittery eyes, keyed by Terry Barber for MAC Cosmetics. "The shape was Catherine Deneuve in Belle Du Jour. It's a very '60s high shape. Glitter also had this element of glam rock of the '70s, too. It's very T. Rex."
Using Eyeliner Mixing Medium, the backstage holy grail, Barber and his team drew the shape on models' lids and filled in the outline with 3D Silver Glitter. "Mixing Medium works really well as a glitter glue," he notes. "With this kind of intensity, because we're packing it on, you need some sort of adhesive. Then you pack the glitter on with a flat brush. You have to press it on and pack it rather than try to blend it. It's not blend-y. It's pack-y." For a finishing touch, he applied White Chromaline on the inside of the eye to make it look big and "sort of sci-fi."
This look was particularly exciting for Barber, he says, as it's one of his favorite eye looks. "I always love the '60s. I always love the curved egg-shaped socket, with lashes on bottom balanced with lashes on the top." This head-turning masterpiece is one that requires balance, though, as when you do huge eyes like this, "it's best to keep everything else quite nude so it doesn't look too theatrical," he notes. With that reasoning, artists gave models very clean skin on the face and body, only spot concealing where needed and dusting the T-zone with powder to cut back on unseemly shine. They wore Prep and Prime Lip Conditioner on the lips — and really, that's about it. "Everything else is really natural," Barber says.
Another exciting element of this eye was the presence of big, full lashes — a far cry from the minimal no-mascara stance that many artists are taking this season. "The lashes on the top and bottom take it back to the Bambi eye," Barber notes. "Like in the '60s, when they used to make the eyes as big as possible with lashes and white liner inside. So it's one of those very doe-y Bambi-eyed statements." And with a few coats of black mascara to make the fringe super inky, his "'60s moon child" aesthetic was complete. I even got a chance to test-drive the look myself, and the compliments rolled in all night — a present almost better than one wrapped underneath the tree.