How To Perfect "Lived-In" Liner & Lips, Per Koche Spring/Summer 2020
Dominique Maitre/WWD/Shutterstock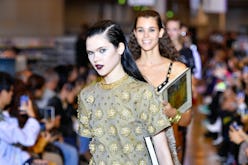 If you're like me, fashion month gets a little bit confusing since the industry typically works a season ahead. Come fall and winter, you're looking at spring and summer trends, and vice versa. However, at Koche Spring/Summer 2020, the beauty look was right on the nose despite the timing, displaying a fall 2019 lipstick trend — a deep, moody berry that can actually work right now.
"There's no particular reference, other than girls who don't like to look too perfect," Terry Barber for MAC Cosmetics tells me backstage at the Sept. 24 show at the Bibliothèque Publique D'information in Paris, France. "They like to look a lot more street than glamorous. Ballsy, strong, confident, self-assured. Dressing for themselves and not for other people." (If he had to choose a reference, though, it'd be Neneh Cherry of "Buffalo Stance" fame).
In fact, the show was essentially a casting of people who would wear designer Christelle Kocher's clothes in the real world, he says, which is why the makeup was styled to look attainable rather than too aspirational. "These are people who go out on a Saturday night and get dressed up. They don't retouch their makeup too much, so they look a bit disheveled along the way home. In a way, they look better than being done up."
The Koche girl, according to Barber, doesn't "really give a s--t about perfection. She's more about 'cool.'" The artist describes that as more street than chic, with a worn-in look. For the eyes, "imagine your black eye makeup last night, but you haven't removed it properly," Barber describes. "So you just put more inside the corner. It's that slightly disheveled look with a slightly punky shape." The product du jour, here, was Kohl Power Eye Pencil in Feline. Most liner devotees know that some black pencils often end up looking gray on darker skin, but this one is a true carbon black that works on all skin regardless of depth, he ensures.
As for that lip, some of the models donned a dark purple brown, "almost kind of '90s" shade: MAC Cosmetics Retro Matte Lip Color in High Drama. "It goes on like a liquid and dries to a really strong matte finish," Barber says. And you can't have a '90s-inspired look without Lip Pencil in Chestnut — "one of the originals. Iconic," he smiles. There was no need to tweak the formula, either: the combination was one that worked on all complexions.
When I noted the wearability of the lip for the chillier months ahead, Barber noted that the theory of "seasonal" makeup is one that he's actually leaning away from. "It used to be where you only wear earthy tones in the winter and bronzer in the summer. I'm not buying that at the moment," he says. "I think what differentiates season to me is skin. Today, we're keeping skin light on the coverage. It's more about concealing around the eyes and pimples. But when it comes to color, people who like bronzer should do it year 'round. People who like dark lips should do it year-round" — despite whether we're in Fall/Winter or Spring/Summer.