The Biggest Makeup Trends That Happened At Paris Fashion Week Spring/Summer 2020
WWD/Shutterstock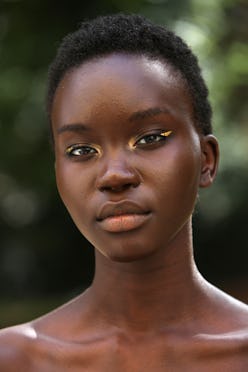 When someone says "French girl beauty," you likely have a perfect picture in your mind of what that looks like. It's a woman with perfect skin, brushed-up brows, and a shock of red lipstick, smudged just so that she looks like she spent the evening smooching a lover. French girl beauty is so ubiquitous that just doing makeup in the City of Lights seems to cause makeup artists to reach for the traditional tools of the trend. And while this season's Paris Fashion Week Spring/Summer 2020 makeup trends involved its fair share of glowing skin and gorgeous cat-eyes, there was plenty of unexpected magic to hit the runways, too.
Artists took the idea of French girl beauty and seemingly amplified it, leaning into the ideals of this trend to the point where they became almost cartoonish — but still incredibly chic. Fresh-faced skin seemed to be extra-perfect on the runway. Cat-eyes had a touch of glitter. It was as if makeup artists took the idea of "if it ain't broke, don't fix it," and ran with it.
So if you're still a French girl beauty devotee, you're not alone. Ahead, find five looks that hold true to the classics — and a few that will inspire you to break tradition this season and beyond.
Metallic Cat-Eyes
Seen At: Altuzarra, Balmain
Get The Look: The typical French girl cat-eye usually involves inky black liquid eyeliner and a steady hand. But on the runways of Paris this season, things got a little more creative. The makeup artists at Altuzarra opted for a copper wing flicked with bits of gold foil at the tail. And at Balmain, makeup artist Samira Goyette used the shade Model Type, a metallic pewter silver glitter, from the Balmain Palette (courtesy of Kylie Cosmetics, of course). "It's very Olivier, very Kylie," Goyette told Vogue.
Dewdrop Highlight
Seen At: Lanvin, Giambattista Valli
Get The Look: Gone are the days of blinding highlight that you can spot from outer space — for now, at least. This season, artists preferred a softer hint of shine on the high points of the face for a more natural finish. "We wanted the girls to be fresh and gorgeous since the show is outside," Diane Kendal for Code8 Beauty tells TZR backstage at Lanvin Spring/Summer 2020 on Sept. 25. "So we're doing lip balm around the sides of the face for a glowy, luminous look."
Smoldering, Smokey Eye
Seen At: Chloé, Celine
Get The Look: Sure, black smokey eyes will be forever chic. But this seasons takes on the trend added a few more colors to the mix. The smokey eyes at Chloé smudged a touch of gunmetal under the eyes, while keeping the lids the typical shade of bronze that this trend is known for. Makeup artist Pat McGrath smudged Blitz Brown, from her new Blitz Astral Quad in Iconic Illumination, around the lids to get this gorgeous, yet accessible look.
At Celine, on the other hand, makeup artists opted for a grungy black shadow to smoke out the eyes. With a collection that focused mostly on '70s-inspired fashions, it should come as no surprise that the shadow looked as if models had just woken up after a hard night of partying.
Perfected Skin
Seen At: Paco Rabanne, Hermes, Lanvin, Balenciaga, Givenchy
Get The Look: Glossier skin isn't going anywhere, folks! Almost every single show this season featured gorgeously glowing skin and brushed- up brows — a French girl beauty standby. At Paco Rabanne, makeup artist Pat McGrath went for fresh-faced beauty. "In this show, it's all about the skin," she tells TZR. McGrath used a mixture of her Skin Fetish balm and highlighter to create a dewey look, proving that you didn't need to grow up near the Seine to have that lit-from-within glow.
Moody Lips
Seen At: Koche, Chloé
Get The Look: While red lips tend to be the go-to for chic French women, a duo of shows in Paris opted for a moodier, slightly deeper pout. Backstage at Koche, Terry Barber for MAC Cosmetics told TZR that "there's no particular reference, other than girls who don't like to look too perfect." He painted on MAC's Retro Matte Liquid Lip Color in High Drama, leaving it a little smudged around the lips.
Chloé girls were also outfitted with sumptuous pouts, courtesy of makeup artist Pat McGrath. She mixed her MatteTrance Lipsticks in Divine Brown and Full Blooded for a moody hue that was a perfect match for the sultry smokey eyes.
Glitter... Lots Of Glitter
Seen At: Valentino, Lutz Huelle, Schiaparelli, Off-White
Get The Look: At Valentino, certain models were given the gilded treatment, with modern cat-eyes sketched in shimmering gold. Instead of the typical kitten flick, some models had lines that resembled Jem and the Hollograms more than Jane Birkin. "Pierpaolo [Piccioli] really wanted gold," McGrath told Vogue. "He said, 'Just play!'"
And play she did. Using shades from her new Nocturnal Nirvana quad, McGrath created four unique shapes that shimmered from the runway, solidifying her reputation as the queen of gilded shadow.