Pat McGrath Just Launched A New Palette Backstage At Paris Fashion Week — EXCLUSIVE
Khalea Underwood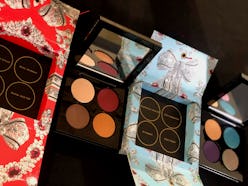 When it comes to dreamy, gorgeous shadow palettes, the legendary Pat McGrath pretty much has a corner on the market. She crafts colors that are trendy and editorial while also being incredibly accessible. So when The Zoe Report caught her backstage at Paris Fashion Week Spring/Summer 2020, she was brimming with excitement over her latest babies: the Blitz Astral Quad Eyeshadow Palettes. "It's a preview to a huge launch that is coming," McGrath tells TZR exclusively backstage at Paco Rabanne on Sept. 26. "Isn't it gorgeous?" (Spoiler alert: Yes. Yes, it is.)
The Blitz Astral Quads, in Iconic Illumination and Nocturnal Nirvana, are inspired by shows in McGrath's storied history. She used the shadows in cool, updated ways for this season, mixing her past and the present in a majorly divine way.
At Chloé's Sept. 26 presentation, she gave Iconic Illumination a test run — which makes sense, since the day's girl was "confident, elegant, strong, and empowered," she tells TZR. "It's extremely beautiful and fresh skin — a take on the modern woman with a very 'done' face. She cares about how she looks." The Chloé girl's lewk of the day included a blend of Matte Trance lipsticks in Divine Brown and Full Blooded for a sumptuous pout, along with smudged Blitz Brown from Iconic Illumination around the eyes.
Chloe Spring/Summer 2020
The look at Paco Rabanne, however, was decidedly more toned-down — but still very Pat. "In this show, it's all about the skin," she tells TZR. McGrath used her Skin Perfection foundation on each model before layering on her Skin Fetish balm and highlighter. A few coats of her Fetisheyes Mascara in black rounded out this minimal look. "It's just very nude, very beautiful, and very fresh," McGrath says.
Paco Rabanne Spring/Summer 2020
But Iconic Illumination and Nocturnal Nirvana are more than just the one specific, but gorgeous, shade of brown. Iconic Illumination contains Astral Gold Allure, a shimmering gilded hue; as well as Blitz Bordeaux, a deep, gorgeous red; along with Bronze Gold 003, a metallic shade that's pitch-perfect for your holiday smokey eye. If you're a devotee, you know that McGrath is known for gold editions. In fact, her first makeup launch was Gold 001 — a shimmering metallic released in fall 2015 that promptly sold out in six minutes and six seconds.
Nocturnal Nirvana is where things get a little more party-ready. These electric hues are packed with glitter and shimmer, making them ideal for a New Year's Eve bash. Incandescent Gold 003 is what I like to call "Pat McGrath Gold." It's as if she melted down an entire bar, turned it into powder, and placed it in packaging. Blitz Aquamarine is a high-octane blue, while VR Emerald is a green that looks like it was plucked straight from Oz.
But the eggplant shade, called Blitz Purple, is the hue from this quad that McGrath called out as special. It's inspired by an eye look she conjured up about 10 years ago for fashion week — but she's keeping tight lipped on which one it is. "You'll have to do some digging to find it," she says, lending more credibility to her label as the fairy godmother of makeup. And while Mother hasn't given us any indication that we're right, our gut is telling us it's from Christian Dior's fall 2009 show (below).
Both palettes are available right now on Sephora, so you can stock up before the holiday season. But act fast — they're limited edition, so once they're gone, they're gone for good. McGrath called this release a "shock drop," but there's nothing shocking about how gorgeous these quads are.