This Is The Perfect Trip To Take With Your Mom As An Adult
Claudia K/Shutterstock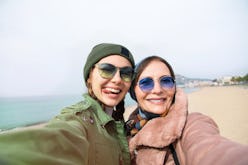 With age comes the appreciation of many things — not the least of which is often one's parents. Growing up it's not always easy to see your mom or dad for who they are: actual humans who are more than just the people telling you to clean your room and eat your vegetables. If putting food on the table and a roof over your head isn't reason enough to give back to your parents as a grownup, what about the simple act of just getting to know them better as individuals? And one amazing way to thank your mom for everything she's given you — like your entire life, for example — and bond the two of you even further is with a mother-daughter trip together.
Just as there are certain destinations that are especially conducive to solo travels, other spots are ideal for a getaway with mom. But how do you find a location that will be dreamy for the both of you? Brianna Glenn of Milk and Honey Travels suggests that one main thing to take into consideration is relaxation (because who doesn't want to relax more?). "In my experience, the best mother-daughter trips are in destinations that allow for relaxing and adventure without being completely surrounded by couples on their honeymoon or smack in the middle of families on vacation during Spring Break," she says.
Another factor in finding you and your mom's ideal vacation spot is thinking about what activities there are to do together, whether it be sightseeing historical landmarks, shopping artisanal wares, or indulging in the area's food or drink du jour. Once the two of you have settled on a few must-haves, you can start narrowing it down by location. But if you still need a little help settling on a spot for your joint excursion, both Glenn and Sarah Morrow, travel advisor at Elite Travel International, have some great advice for places that may just give you and your mama the trip of a lifetime. Ahead, find five travel guru-recommended destinations for an unforgettable mother-daughter getaway.
Buenos Aires and Patagonia, Argentina
Morrow has some personal experience on the topic of mother-daughter trips, having recently traveled to Argentina with her own mom. "In 2015, I traveled solo from Nicaragua to Argentina overland and my mom came to meet me at the end of my trip," she explains, "Buenos Aires provided great options for shopping, dining, and exploring." And if outdoor activities are up both of your alleys, she also recommends making time for a trek outside the city. She adds, "The most memorable part was the adventure of exploring Patagonia and getting outside of our comfort zone and making memories that will last a lifetime."
St. Lucia, West Indies
If massage, yoga, and other forms of self-care is of utmost interest to you and mom for your getaway, Glenn suggests searching for a spot that specializes in wellness. "A favorite of mine is BodyHoliday in St. Lucia," she recommends. "Here you are able to do as much or as little as you'd like, all while being surrounded by the beauty of St. Lucia." As for why a wellness retreat is an ideal option for mother-daughter trips, she explains, "Not only do you get the opportunity to bond, but you return home with more energy, better health, and a renewed spirit."
Marrakesh, Morocco
It's Morrow's belief that some of the best spots for a mother-daughter trip are the ones that have a plethora of experiences to offer. Enter Marrakesh, which she says "provides a great balance between food, history, art, and culture." In addition to shopping the world-renowned souks (or markets) in the city's old town, the two of you can further recreate the full Sex In the City/Real Housewives of New York experience by taking time to explore the nearby desert via camel — if you're game!
Tuscany, Italy
Italy provides so many different types of indulgences for you and mom to enjoy. And if you're both wine connoisseurs (or at very least avid sippers), Harris believes there are few better places to travel than Tuscany for scenic vineyard visits and idyllic tasting adventures.
Southeast Asia
Escape to Shape is a curated travel company that organizes amazing wellness trips, and Morrow believes a great resource to find your mother-daughter destination. In particular, the Southeast Asia getaway — which includes visits to Cambodia and Laos. The carefully organized excursion is, as she mentions, "a perfect mix of history and natural beauty with lots of wellness offerings." In addition to epic sightseeing, the trip includes meditation, massage, and lots of "bucket list" opportunities.