How I'm Incorporating Fall's Most Polarizing Color Trend Into My Makeup Look
Imaxtree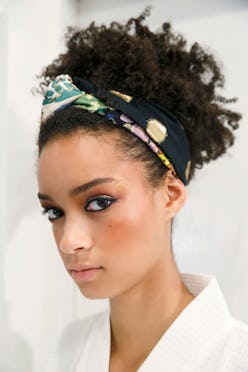 Summer and all its beachy, frosé glory is all well and good. However, in my heart of hearts, I will always be a lover of the colder seasons. When it comes to fall in particular, the season's color trends — both classic and new — contribute to my obsession with the chillier months ahead. (Who am I kidding? I live in Los Angeles, so it really doesn't get cold.) And, I'm not just referring to my autumn-hued wardrobe. As soon as September rolls around, my beauty routine also takes a swan dive into fall territory and all that it entails.
And while the concept of autumn shades may bring up the old tried-and-true rich tones of marigold, chocolate brown, pumpkin orange, oxblood, and burgundy, this year's coming season is telling a very different color story. According to TZR calculations, the post-summer months ahead are looking lighter and brighter than ever — which is great news for my beauty look. Yes, it seems all sartorial signs point to sherbet skies of vibrant greens, soft purples, and electric pinks as far as the eye can see. To say I'm here for it is an understatement.
While said trending hues obviously translate easily to my cold-weather wardrobe (sign me up for a fuchsia or mint green cardigan), I also see great opportunity in the makeup and nails arenas. I never shy away from color when it comes to my beauty routine, and I see the coming fall season as a welcome challenge to go bold or go home. I'm all for a pistachio manicure, lavender highlighter swiped across my cheekbones, a rust-colored lip, and a hot pink smoky eye ... maybe just not all at once.
Ahead, some of the key methods to my fall makeup madness that will help me execute my colorful mission once PSL season is in full force.
Pistachio
It seems the ubiquitous slime green trend that dominated in spring and summer will manifest in a more subdued and minty version this fall. I love the idea of washing my lids in a soft pistachio shade, swiping on a nude lip to balance things out, and calling it a day.
Lavender
Lavender is the little trend that could, making a splash in spring 2018, and continuing its reign well into the coming months. While a monochromatic lavender ensemble is a great idea, why stop there? I have every intention in bathing my face and nails in the cotton candy hue.
Rust
Of all the colors on my fall beauty must-have list, burnt orange feels the most apropos for the pumpkin spice season. However, I plan on reaching for products with more electric pigment and metallic finishes to make the shade feel fresh and new.
Fuschia
Pink is and always will be a signature color of mine. Pastel, nude, neon — I'm a fan no matter where the shade lands on the spectrum. For fall, electric rosy hues are in full force, and I'll be showing my support all over my mug.
Neon Blue
One of the more unexpected trends for fall, vibrant cornflower blue might be giving pistachio a run for its money. A substantial part of the neon movement that's running rampant this season, sky-blue hues are a great way to shake things up in the beauty department. I plan on lining my lids with an aqua shade on those days I want a pop of color without the fuss.