Dewy Foundation Will Still Be In For Fall 2019 — & So Will These 6 Trends
Imaxtree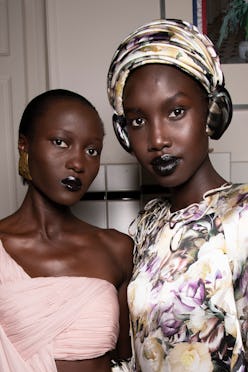 Even though you might be living your best glowy life, there's no shame in looking toward the future — especially since fall is around the corner. Summer's always synonymous with fresh skin and light makeup, but come fall, layering is optimal with clothing and with your makeup. In fact, fall 2019's makeup trends are all about vibrant colors, bolder eyes, and overall individuality.
According to Fatima Thomas, a MAC Senior Artist who also works with Jessica Biel and Jill Scott, seasonal trends are what you make them. "Many see autumn as a time for deeper and more muted colors — I like the idea of throwing a bold jewel tone in the mix," she tells TZR. But the shades you choose aren't the most important part of your fall lineup. Regardless of seasonal conventions, above all else, Thomas thinks that makeup should be pleasurable. "So play!" she encourages.
But sometimes, there's nothing wrong with a classic, according to Sil Bruinsma, a New York City-based makeup artist who collaborates with Louis Vuitton, Givenchy, and Maison Margiela. After a few seasons of working with raw and experimental looks, Bruinsma now finds that his work leans "towards a more refined definition of beauty — it might be a beautiful, smoked-out cat eye, a pretty lip in a flattering satin finish, or a well-groomed eyebrow that enhances someone's face," rather than a dramatic focal point.
Whether you're opting for deeper and muted colors or taking a classic approach to beauty this fall, ahead see seven trends that you'll be adding to your makeup lineup this fall.
Graphic Eyeliner
Graphic eyeliner is everywhere this season according to celebrity makeup artist Diane Kendal, who works with Zoe Kravitz and Jennifer Lawrence. To create a graphic eye look, start with using tape from the lower outer lash line to the tail of the brow as a guideline to draw a strong line. "It's a fool-proof way of practicing your liner technique," she says.
Matte Lips With Blurred Edges
"For lips, I suggest applying the lipstick from the tube and then using a cotton ball to blur the edges — leaving a soft cherry bitten stain with a soft edge," Kendal, who keyed the makeup for Tom Ford Fall/Winter 2019, says.
Smoked-Out Cat Eye
To begin a smoked-out cat eye, Bruinsma starts with creating a simple smokey eye. He then takes a precision eyeliner to line, but keeps the top lids winged out and thick. To finish, Bruinsma tops off with a voluminous mascara.
Diffused Cheek Color
Celebrity makeup artist Michael Ashton, who counts Adele, Natalie Portman, and Sabrina Carpenter as clients, says diffusing your cheek color is a quick and easy way to give added dimension and life to the face. For your cheeks, try a cream blush instead of a powder this fall. "Cream emollient products are fantastic since they're easy to blend and are much more forgiving than powder formulations," Ashton notes.
To apply a cream cheek color, "use your fingers and then blend out," Ashton says. This technique creates natural warmth from your fingers helps to give a natural-looking flush.
Satin Finish Lips
For a satin finish on your lips that is comfortable, Bruinsma starts with a liquid lip color. He then tops it with a clear gloss to add shine and a sheer look.
Technicolor Eye Statement
Thomas says to get inspired by color combos and eyeliner placements this fall. "I usually create dynamic, and big technicolor eye statements, but you can try a small, thin colorful liner on the upper lid in addition to color all over the lid," Thomas says.
Dewy Foundation
"For fall 2019 there will be more natural and hydrated-looking finishes when it comes to foundation textures. Recent formula innovations mean you can get the desired coverage while still allowing the natural and radiant texture of the skin to show through," Ashton says.
Look for a foundation that has a buildable and natural finish rather than anything too matte. Start by applying through the center of the face and then blend out using a synthetic buffing brush. "If you do have skin that tends to get oily throughout the day, prep those areas using a mattifying moisturizer and a very light dusting of translucent powder to finish," Ashton says.