The 5 Winter Boot Trends You Should Invest In Now
Pixelformula/SIPA/REX/Shutterstock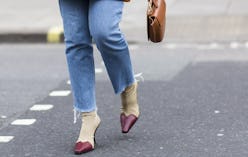 After a long, sweltering summer, the idea of actually putting on something substantial is an appealing proposal. But often, as winter wears on, personal style slowly devolves toward one thing: comfort. So when you're investing in cool pieces at the beginning of the season, it's important to remember that you'll want them to pull double duty a month or two in. One of the best things to invest in at the start of the season is a pair of cute winter boots that are actually functional, too.
This season, there are five fresh cold-weather boot trends that will convince you to ditch the simple black Chelsea boots you've fallen back on time and time again. Details like a square toe and sculpted heels elevate your winter footwear game to the next level. Here, you'll find a breakdown of how to wear five winter boot trends you'll feel good in all season long. While it's impossible to predict the snowstorms and temperature fluxes headed your way, at least you'll know that your shoe situation will be set no matter how dreary it gets come February and March.
Cute Winter Boots: Square-Toe
If you're looking to add an eye-catching detail to your dream winter boot collection, choose a pair with a square-toe. "A square-toe adds an instant vintage look and feel to a pair of boots and they look great paired with cropped pants," says Indya Brown, fashion partnerships editor at The Cut. Cowboy-inspired styles in sleek black or a soft brown both look great with midi skirts or sleek trousers.
Cute Winter Boots: Snakeskin
If you've scrolled through your Instagram feed lately, you've probably noticed that the fashion world is once again obsessed with the snakeskin trend. "A texture like snakeskin will give a boot a bit of dramatic flair, without feeling like you're going overboard," says Los Angeles-based stylist Marissa Smith. "Pair this style with a great pair of vintage denim and a T-shirt and you're ready to go." Smith notes that neutral colors make this trend appealing to those who are eager to test new waters, without wearing anything too bold.
Cute Winter Boots: Lug Sole
Lucky for you, this season, the practical lug-sole boot is a fashion-insider favorite. Whether you're actually headed out hiking in the wilderness, or you're just looking for something comfortable to wear around town, take a cue from trendsetters and style these boots with boyfriend jeans or a floaty maxi dress.
Cute Winter Boots: Sculpted Heels
If you're feeling more daring with your style this season, sculpted heels are the trend to try, according to celebrity stylist Dani Michelle, who works with Kourtney Kardashian and Kylie Jenner. "I'm most excited about sculpted heels for this season," explains Michelle. "Shoes play such an important role in our wardrobes, because we get so much use out of them. My vibe right now is relaxed denim, some cool rocker t-shirt, and a strong heel." This unique detail will ensure both double takes on the street and double taps on Instagram.
Cute Winter Boots: Lace-Up
Lace-up boots are another style ideal for those who want to add a touch of intrigue without investing in anything too bold. Romantic Victorian-inspired styles have been popping up from both indie designers and heavy hitters alike. Consider these the ultimate day-to-night shoe that can easily carry you from the office to cocktails afterwards.
This article was originally published on