13 Snow Boots That Are As Stylish As They Are Functional
PIXELFORMULA / SIPA/SIPA/Shutterstock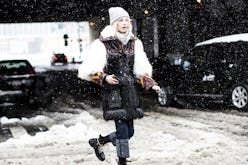 Ah, winter. The big comfy sweaters, warm hot cocoa, cute holiday TV specials... and the inevitable first time you fall on on ice. Navigating snowy sidewalks can feel like iceskating without the right boots on — and there's actually a name for them. They're called lug boots, named after the thick, indented lug soles that keep you on your feet during the slipperiest conditions. And while many winter boots don't actually come with the equipment needed to prevent slips, lug sole boots have the right amount of traction to keep you on your feet.
It may seem like a no brainer, but some shoes forgo the lug sole in favor of flatter options in winter boot styles. But while they may be cheaper or better for the overall look of a boot, those soles will only work in a Los Angeles winter. It's also important to keep an eye on what's used to construct the boot's upper, as well — weather-resistant materials like coated leather, rubber, PVC, and neoprene will keep you dry when you accidentally step into a slush puddle that was deeper than it looked.
You won't need to spend hours decoding shoe tag symbols to find runway-ready snow boots this season. Many designers drew inspiration from traditional lug-soled work boots for this winter's releases, creating variety of functional snow boots to choose from, like Common Projects' $700 Hiking Leather Ankle Boots. Though Miu Miu doesn't come out and say on its website that these leather and knit booties are inspired by hiking boots, the trail-ready platform sole is perfectly heavy duty, and the added buckle would make these stand out on a trail.
If you shy away from dropping serious money on a boot that will only see wear and tear, there are plenty of affordable options to choose from, too. Snow-ready boots like Timberlands and Dr. Martens have long been at the center of where high fashion meets utilitarian function. Though a pair of wheat Timberland boots is cheap for its celebrity status at $170, Dr. Martens' signature black boots will last you all winter for only $140. If you think a chunky '90s boot would go against the grain of your style, celebrities like the Hadid sisters and Behati Prinsloo have been proving that big black boots are a staple for a reason.
It's also smart to look to new releases by beloved snow boot brands, because most have stepped up the game since the days of shapeless black nylon boots. Merrell boots are the go-to of Midwesterners facing feet of snow instead of inches, and the heeled brown leather Chateau boot rivals designer shapes at an accessible $165 price. The boot also has the features that made Merrell a sacred name amongst Chicago fashion girls, like waterproof leather and a slip-resistant lug sole.
Though it may be tempting to wear your cowboy boots through the winter, flat soles just won't cut it in a few weeks. Swapping out slippery shoes for durable, quality lug sole boots is the gift that will keep on giving. Keep scrolling to shop 12 more snow boots as fashionable as they are functional.