This $95 Coffee Table From Target Will End Your Hunt For The Perfect Piece
Target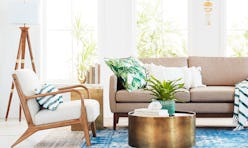 Your coffee table may be the one piece of furniture guests interact with the most. Whether it's used as a latté rest during afternoon gossip sessions or as a dining table during movie nights, the perfect coffee table completes a living room. You don't need to spend lots of money to find expensive-looking coffee tables for cheap, either. Even though Black Friday is right around the corner, the cheap coffee tables at Target are on sale already — and the right coffee table for your living room is probably on sale for under $150, too.
Always one to outdo itself, Target's Black Friday deals are running all month, with extra (non-related) savings also to be found basically anywhere you look. Hundreds of coffee tables are on sale on Target's website, including pieces like this Project 62 round gold coffee table. Originally $129.99, the hammered metal coffee table is on sale for $123.49, making it even more affordable for anyone in need of a luxurious living room focal point. Want the glitz of gold in less of a statement piece? The $119.99 Sayer Coffee Table White is on sale for $113.99 and has metallic gold legs that contrast with its white and wood shelves.
Flashy furniture may not fit your vibe, though. If you've been on the hunt for a minimal wood and metal coffee table, the Elgin from Project 62 might be exactly what you're looking for. Regularly $99.99, the $94.99 coffee table has the same round shape of the popular gold table, but in a simpler industrial look. The table is made of steel fitted with a faded, neutral veneered top. Style a few eye-catching coffee table books and a candle to create a comfortable, homey living room space that can easily convert into a board game table or snack bowl display.
Into bigger bargains? Not all of the coffee tables are just five percent off. Any mid-century modern lover would want the Wood And Faux Marble Coffee Table in their home, and for a limited time the table is 25 percent the regular price of $199. A steal at just $149.25, the coffee table has trendy marble layered in with warm wood, a clutter-catching drawer, and negative space for styling anything you want to subtly display. The surprisingly strong contrasting black legs can hold up to 250 pounds of weight, all the while tapered and angled for a '50s aesthetic.
Sometimes, all your living room needs is the right pop of color. Deep jewel tones are never out of style, nor is the traditional shape of this Wiley Coffee Table. Originally $149.99 and on sale for $134.99, the coffee table gently softens its corners for a modern approach to the classic coffee table's angular shape. Throw your remotes and knick-knacks in the table's two hidden drawers and hide a basket or two on the lower shelf for extra storage.
There's no debating it: Target is making it so easy to affordably create the beautiful, functional living room you want. Save your money and elevate your style with these 11 stylish Target coffee tables under $150.