Amal Clooney Wore A Modern Skirt Suit & You'll Want To Follow Her Lead
Emma McIntyre/Getty Images Entertainment/Getty Images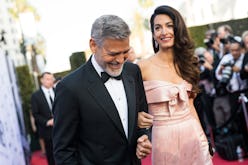 Amal Clooney has to be one of the most stylish attorneys in the world. The British-Lebanese barrister is so fashion-forward, in fact, that she just singlehandedly brought a once-dated lawyer outfit back in style. Amal Clooney's skirt suit will surely inspire you to stock up on a pair of retro separates yourself.
On Mon., Hollywood's favorite human-rights lawyer attended a Nobel Peace Prize ceremony in Oslo, Norway, where Nadia Murad, an Iraqi Yazidi who Clooney has worked with to end sexual abuse as a weapon of war, was granted the coveted award. Standing out amongst a sea of black suits and neutral dresses inside of City Hall, there was the trendy humanitarian, dressed in an eye-catching cherry-red ensemble.
Clooney's monochromatic separates were certainly the brightest — and most stylish — in the crowd. She wore a short-sleeved, belted peplum jacket by Oscar de la Renta with a matching midi skirt with flowy pleats. The scarlet-hued statement pieces — Italian-made with wool-blend tweed and a touch of mohair — feature frayed hems, a modern take on the old-school sets First Lady Nancy Reagan used to wear in the '80s.
Leave it to this immensely stylish international attorney to make the bygone skirt suit trendy again.
Get The Look
Skirt suits are essential to any lawyer's wardrobe, so it's no surprise that Clooney is always trying to find ways to elevate the classic combo. In 2016, for instance, the 40-year-old wore one in a similar red hue to a press conference at the Doughty Street Chambers. Then, earlier this year, she wore a cream-colored version of her most recent look, Jackie O-inspired tweed separates by Chanel.
An updated take on the iconic women's power suit, these co-ords made a comeback on the runways of Fall 2017 Fashion Week. Bottega Veneta, Jil Sander, Versace, and Moschino all showcased their own unique versions of the trend in Milan.
Duchesses Kate Middleton and Meghan Markle are certainly no stranger to this royal wardrobe staple, and neither are fashion-forward models like Bella Hadid and Hailey Baldwin. What more proof do you need that the skirt suit will be the next big thing? Be the first to sport the trend at work or to your upcoming holiday parties with these four skirt suits curated by The Zoe Report, ahead.
Shop Skirt Suits