Don't Know What To Wear For Thanksgiving? Amal Clooney's Got You Covered
Tristan Fewings/Getty Images Entertainment/Getty Images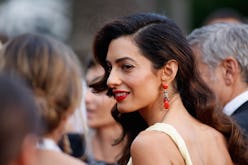 There's a reason Amal Clooney's style is so enviable. Not only does she have a keen eye for pairing chic silhouettes with bold hues, but she infuses her timeless style with subtle trends. Although your holiday itinerary will likely look much different than hers, it's a smart move to take a few notes from Amal Clooney's best outfits when piecing together your own.
The countdown to Thanksgiving is officially on, which means a string of family, friends, and even office gatherings will be here before you know it. Although dressing for parties isn't always a straightforward task, Clooney's style may just be the inspiration you need. Ahead, check out Clooney's best looks and shop the pieces you'll need to reimagine them at home.
Green Leather
Clooney chose a unique version of a classic piece by opting for an emerald-green leather jacket. Jewel tones of all types are a must for fall, and a jacket is an easy way to incorporate the trend into your Thanksgiving look without straying too far from what you're comfortable in. And green leather isn't just limited to outerwear — if you're not ready to part ways with your go-to coat, opt for a mini skirt, a pair of pants, or even a button-down top.
Shop The Look
Winter White
Abandon all outdated fashion rules here, because white can and should be worn after Labor Day and far beyond. Clooney teamed a white mid-length dress with a longline coat that featured matching leather details. While a dress can seem impractical as the weather gets cooler, tights help combat the freezing cold and keep your legs completely covered. Accent the crisp black-and-white combination with gold details (think: statement earrings, a thick bangle bracelet, or a long, delicate necklace).
Shop The Look
Checked Pants
Swapping out your most reliable jeans for a pair of checked trousers is a simple way to take your look from casual to polished. Clooney dressed hers up with a black sweater, a matching trench coat, and a pair of pointed pumps. Even after Thanksgiving comes to a close, you'll want to style for every occasion (work, happy hour, or even a night out).
Shop The Look
Bold Trench
Trench coats are just as practical as they are stylish — especially if you opt for a bold hue. Clooney leaned into the trend with this sky-blue fur-collared wool trench. She paired it with another on-trend piece, a leopard print midi dress, for the ultimate contrast. Although mixing prints and clashing colors has been increasingly popular as of late, this slightly subtle mixture is a great way to experiment with bold combinations if you're still a bit weary.
Shop The Look
Red Jumpsuit
A bright red jumpsuit is one of the easiest ways to make a bold statement during the holiday season. Opt for a structured version like Clooney's and pair it with a wool coat or wear something more casual with your favorite heels.
Flared Trousers
Up your workwear game with a pair of flared trousers. Whether you style them with a cropped blazer like Clooney or you wear it with a chic blouse, you simply can't go wrong with this classic staple.
Dark Florals
To bring the floral print into the cooler months of the year, opt for prints with darker hues. As a co-host for the 2018 Met Gala, Clooney wore a romantic jumpsuit with a sweeping floral skirt to follow.
One-Shoulder Pieces
For the slightly less formal gatherings, Clooney has been no stranger to a one-shoulder look. Whether it's in the form of a jumpsuit, dress, or a simple top, this asymmetric silhouette is a cool alternative to its two-shouldered counterpart.
Suede Boots
While there will always be room for statement-making pieces in her wardrobe, the barrister also leans into classic accessories like suede boots. Here, she styles a thigh-high pair with a short wool coat.