This Influencer Travels 260 Days A Year — Here's Her Biggest Carry-On Tip
Ron Galella, Ltd./Ron Galella Collection via Getty Images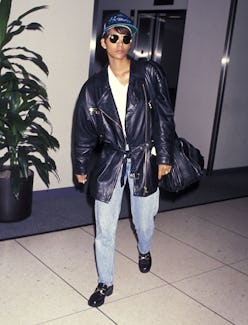 You have your flight booked, plans in place, and family members texting how excited they are to see you — but before all of that, you still have to figure out how exactly to zip your suitcase closed. Even if you're just leaving home for a few days, packing strategically can make all the difference both at the airport and once you've reached your destination. This is the year's busiest travel time, and you'll want to read up on holiday packing tips experts swear by that can take at least some of the stress out of your own itinerary.
If the limiting factor when packing your luggage is squeezing in the gifts you plan to give, start by considering this work-around: "I don't like to check luggage, even during the holidays when packing gifts can push you over the weight limit," Annie Werner, digital managing editor at Away's Here Magizine, tells TZR. "Instead, I find a way to ship most of my gifts to the location where we'll be opening presents." To make sure they arrive in time, consider ordering them well in advance and that recipients know not to open things ahead of time.
Now, if figuring out your own outfits is what trips you up, you'll find four holiday packing tips that will aid in making your travels more about family, and less about cramming in another pair of shoes or tracking down lost luggage.
Carry On The Right In-Flight Items
A versatile carry-on bag is a must. Opt for a canvas tote which can handle the wear and tear of airport travel and consider a zip top to protect everything. Pack your desert island items inside it for the plane ride — passport, wallet, snacks, and even a change of clothes. Once you arrive it'll be ideal for any grocery shopping, errands, or beach days. "Having an extra-large bag is a must, especially if I'm going somewhere tropical and need an impromptu beach bag that can hold towels and outfit changes," explains Helen Owen, a travel influencer who travels 250 days out of the year.
Besides a sturdy, spill-proof bag, make sure you're dressed in enough layers to survive a train, bus, or airplane's wildly-swinging microclimate. "I've spent enough plane and bus rides where I could barely hear the music in my headphones over the chattering of my teeth to understand my true priorities," notes Emma Glassman-Hughes, print editor at Here Magazine. "Now, independent of the climate I'm heading to, my travel outfit always includes a big scarf that doubles as a blanket or even a pillow."
Keep Your Suitcase Organized
For those living out of a suitcase during the journey, ensuring it's neat will help you quickly access your belongings and makes throwing together outfits a breeze. To do this, strategic folding is a must. "The key is to tri-fold your clothes up into little rectangles and stack them horizontally across your case, so there is one layer of folded clothing rather than stacking clothing vertically in the case," Owen recommends. The jet-setter also likes to keep one side of her suitcase strictly for clothing, and the other side for everything else — accessories, shoes, and toiletries included.
If your goal is to carry on only, the right packing tools will allow you to fit more in a smaller suitcase. "When I first started working at Away, the one travel accessory everyone raved about was our Away packing cubes," notes Abby Sjoberg, Here Magazine's director of audience development. "I was admittedly a little skeptical, but after a week-long trip to Copenhagen, I was a believer." Packing cubes aid in keeping your suitcase organized, and allow you to actually fit more inside since it keeps items condensed. And if you're in a hotel room with a dresser, you can easily switch the cubes from your suitcase to drawers without anything getting lost or unfold.
Pack Versatile Pieces You Can Mix And Match
If you have various activities that require multiple levels of dress-up, but limited space in your suitcase, make sure to try on looks beforehand and pack versatile pieces you can easily mix and match. "The same blazer with black jeans, heels and a blouse is going to look like a different blazer when paired with a tee, denim shorts and tennis shoes," Owen explains. Small accessories are an easy way to instantly switch-up your look, so be sure to bring a few easily-packable hats, scarves, and jewelry items. It's better to avoid brand new items unless they're intended for something specific (say a wedding), and you know exactly how you'll wear them.
Be Strategic When Packing Beauty Products
If you're going away for just the weekend, try a travel tool, such as The Original High Five from Palette By Pak that lets you store small samples of all of your favorite products together. "I have sample-sized versions of all my products which are smaller than travel-sized, and still enough to get me through a week," Ally Betker, editorial director at Here Magazine, tells TZR. "Most beauty stores give out samples of their products in tiny containers, which I then reuse and refill."
Make sure to carry essential products in flight as well, since airplane cabins can easily wreak havoc on sensitive skin "I have noticed the biggest difference in my acne-prone skin since implementing in-flight skincare practices, and it also helps me wind down on a flight and feel clean and refreshed upon landing," Owen notes. Keeping a face mist or lotion in your travel tote will mean less time fussing over irritated skin once you're on the ground.